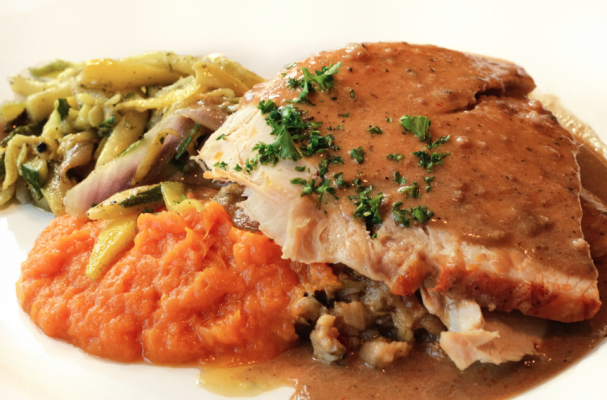 Gravy is the glue the ties the whole Thanksgiving meal together. Many people are afraid of gravy, especially if studded with giblets. These nuggets of meat add some tremendous flavor and make for a fantastic gravy. The trick to perfect gravy is balancing the fat with flour and liquid. Pay close attention to the texture as the flour should absorb the fat, not sitting on top. What is your secret to perfect? Let us know your tips and tricks in the comment section below.
Turkey Giblet Gravy
Ingredients:
Turkey neck and giblets
Turkey drippings
1 tbsp apple cider vinegar
1/2 cup all purpose flour
4 cups turkey stock
salt and pepper, taste
Directions:
Step 1: While the turkey is roasting, place the turkey neck and meat into a medium saucepan. Add water until the meat is just covered. Bring the water to a boil and then reduce to a simmer. Cook the meat for 50 to 60 minutes. Remove from water and allow to cool. Remove meat from neck and finely chop giblets. Set aside.
Step 2: Once the turkey is cooked, pour the drippings into a fat separator or allow the fat and liquid to separate naturally. Place 1 cup fat back into the roasting pan and apple cider vinegar and sprinkle flour over fat. Heat under medium heat and whisk into a thick paste. Add more flour if necessary. Cook paste until golden brown. Add 1 cup turkey drippings (the liquid) and turkey stock. Continue whisking to avoid lumps and until gravy has thickened, about 5 minutes. Taste gravy and season with salt and pepper.
Image Sources: