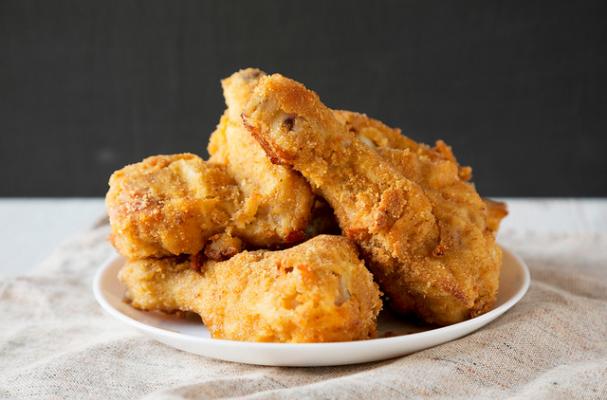 Fried chicken is a quintessential summertime picnic food, but when the colder months come around we still crave the crispy goodness of fried chicken. What we don't love are the calories! This oven baked "fried" chicken recipe comes out super crisp yet without all the added fat of a traditional deep-fried chicken. The trick to creating a nice crust on both sides of the chicken is to preheat the oven with a cookie sheet inside - getting that cookie sheet nice and hot! When you are ready to put the chicken in the oven, there will already be a heated surface to crisp the bottom side of the chicken.
Ingredients:
1 Chicken- cut into pieces
Olive oil or cooking spray
Preheat oven 350 degrees F.
In a baking pan, whisk together flour, garlic pepper, sugar and paprika. In a medium size bowl, whisk together buttermilk, eggs, baking powder and baking soda until smooth.
Dip each piece of chicken into buttermilk mixture, shaking off excess. Roll in flour mixture and then dip into buttermilk followed by the flour mixture a second time. Place on the pre-heated baking sheet and drizzle with olive oil (or spray with cooking spray).
Bake about 50-55 minutes or until chicken is golden.
Image Sources: