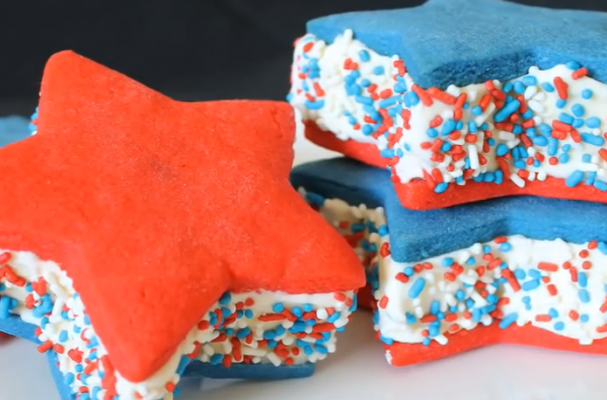 If you are celebrating July 4th in the hot sun, then I suggest turning to ice cream for your Independence Day dessert. Whether you prefer to churn it yourself or eat store bought, nothing is as satisfying as an ice cold bite of ice cream to combat rising temperatures. These star spangled ice cream sandwiches come together with ease. The homemade blue and red star sugar cookie is sandwiches with vanilla ice cream and dipped into sprinkles. If you are feeling a little extra fancy, feel free to swirl so strawberry or blueberry jam with your ice cream before piling it onto the cookie.
Star Spangled Ice Cream Sandwiches
Recipe from Crouton Crackerjacks
Ingredients:
For the sugar cookies:
1 cup (2 sticks) unsalted butter, softened
1 cup sugar
1 large egg
2 tsp vanilla extract
3 cups all-purpose flour
1 tsp baking powder
red and blue food coloring (I prefer Americolor in Super Red and Royal Blue)
For the ice cream sandwiches:
vanilla ice cream
red, white and blue jimmies or sprinkles or colored sugar
For full recipe instructions, watch the video below.
Image Sources: