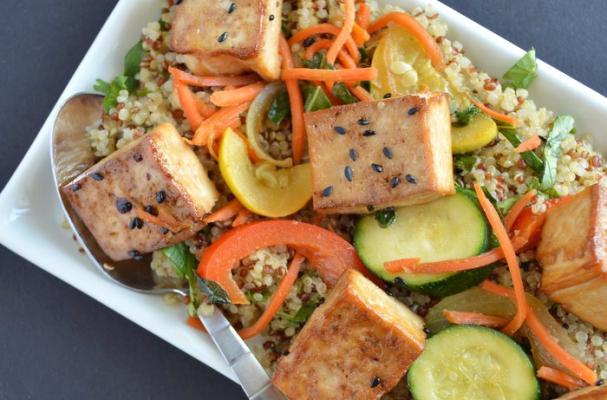 Tofu is a plant based protein that has becomes the number one meat substitute for vegans and vegetarians. It no longer is considered an Asian ingredient because of its numerous culinary uses. Tofu has a mild flavor which makes it a perfect vehicle for bold, intense flavors. These days you can find tofu in several forms at the supermarket and even tofu based convenience foods. These recipes reveal how versatile and delicious tofu can truly be.
Grilled Chipotle Tofu Tacos
Recipe from Ricotta and Radishes
Extra-form tofu are sliced into triangles and marinated in chipotle in adobo before hitting the grill. The triangles are then tucked into tortillas and served with feta, radishes, and cilantro.
Sesame Crusted Tofu with Peppers and Onions
Recipe from Tina's Chic Corner
In this recipe, cubes of tofu are coated in a spicy peanut sauce and sesame seeds. The sesame seeds created a crunchy crust which contrasts with the soft tofu.
Veggie Pasta Salad
Recipe from Whole New Start
Whole wheat pasta is combined with tomato sauce, vegetables and crumbled tofu. This salad is not only good but also good for you.
Honey Ginger Tofu Stir Fry
Recipe from Pinch of Yum
This honey ginger tofu stir-fry can be made on the fly. When you are limited on time, this is a quick and easy tofu recipe.
Coconut Quinoa and Tamari Tofu
Recipe from Healthy Nibbles and Bits
Instead of rice, this coconut flavored quinoa is dynamite paired with the tamari soaked tofu. You can purchase tamari at an Asian market or specialty foods store.
Image Sources: