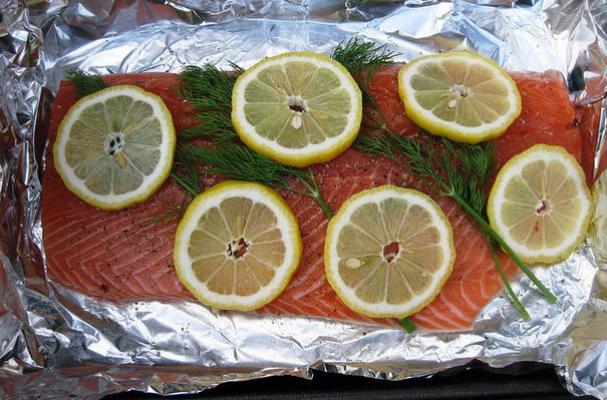 One of the things I love most about spring is all the fresh fish that comes back in season, especially salmon! We eagerly await the arrival of Copper River salmon each May, both sockeye and king varieties, and eat it frequently while it's still in season. We smoke, grill, poach, and cure it. If you've got salmon fever like we do, try some of these delicious recipes like my tasty Salmon Burgers, an easy Roasted Salmon with Lemon and Dill, or a Healthy Salmon Caesar Salad. Any salmon will do, just make sure it's the freshest you can get and that you don't overcook it (or any fish, that's what brings out that too fishy smell!). Here are some of my favorite ways to prepare this scrumptious, good for you fish.
Cedar-Planked Salmon With Mustard Dill Sauce
Salmon En Papillote With Mangos and Orange Suprêmes
Submitted to Foodista by Anne Livingston
Salmon, Watercress, Fennel and Baby Beetroot Salad With Lemony "Caviar" Dressing
Roasted Salmon With Lemon and Dill
Smoked Salmon With Dilled Labneh On Pita Chips
Submitted to Foodista by Taste of Beirut
Healthy Salmon Caesar Salad
Submitted to Foodista by Alex Liska
Smoked Salmon Pasta
Submitted to Foodista by BJ Graham
Grilled Salmon Salad
Submitted to Foodista by Simply Foodify
Photo by Gudlyf
Thai Street Vendor Salmon Skewers
Want more from Foodista? Sign up below!