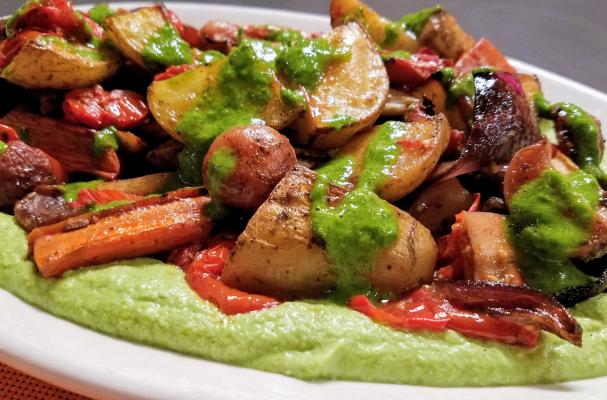 I tried to do keto - it didn't work for me. I love fruit, vegetables, and grains too much. In the last couple of weeks, I've been eating a mostly whole-grain, plant-based (aka WGPB) diet, and I feel so much better! I can eat endless amounts of fruits and vegetables.
I cracked open my copy of the 7-Day Vegan Challenge by Bettina Campolucci Bordi, author of the blog Bettina's Kitchen and cookbook Happy Food, and have been working my way through her delicious recipes. It's the perfect book for those who are looking to clean up their diet, but maybe not fully commit to a vegan lifestyle (or perhaps you will!), and for vegans who are looking for some weeknight inspiration.
Bettina's book features over 70 plant-based, gluten-free, and refined-sugar-free, budget-friendly recipes designed for small families of 1-2 people. If your family is larger, the recipes are easily adaptable. The ingredients she uses are easy to find, and the recipes are amazingly approachable. No breaking a sweat in the kitchen after a long day homeschooling the kids while simultaneously telecommuting. Thanks, Covid-19.
Chapters include Brekkie On the Go & On The Slow; Sandwiches, Salads & Soups; One-Pot & Pan Wonders; Savoury Traybakes; Sweet Tooth; and Make Your Own (ex: nut milks, vegan mayo, etc). She includes convenient meal planners, shopping lists, and tips for batch cooking, freezing, making food ahead, and how to reduce food waste – all of which are especially important during a pandemic.
Recipes worthy of mention include:
Savory Ginger & Garlic Oats
Chickpea Scramble
Tokyo Hummus Sandwich
Quick Laksa
Veggie Fritters with Sweet Chilli Dip
Creamy Satay Noodles with Salt & Pepper Fried Tofu
Gnudi with Tomato & Basil (you only need potatoes and cornstarch to make these easy dumplings!)
Fifteen-Minute Flourless Choc Chip Banana Muffins
Last night, I made her One-Tray Sunday Roast with Smashed Peas to the great delight of my husband and 9-year-old daughter (that was another reason for my failure with keto – I was not able to get the fam on board). This dish is a veritable rainbow on your plate! It's loaded with root vegetables, red onion, red cabbage, and kale, then piled on a bed of creamy smashed peas and topped with a lemony parsley herb sauce.
One-Tray Sunday Roast with Smashed Peas
Recipe reprinted with permission from Hardie Grant
"A real crowd-pleaser, super colourful, with lots of texture and, first and foremost, a delicious flavor. This was inspired by my friend and fellow foodie, Niki Webster." ~ Bettina
Makes 2-4 portions
1 potato, peeled and sliced lengthways
1-2 carrots (multi-colored, if possible), sliced lengthways
2 parsnips, peeled and sliced lengthways
1 red onion, sliced lengthways
¼ red cabbage, sliced
1 garlic bulb, sliced
1 handful of kale
2 tablespoons olive oil
1 tablespoon tamari
1 glarlic clove, grated
For the Smashed Peas:
5 cups frozen peas
1 splash of Plant Cream or any non-dairy creamer (I used unsweetened NutPods)
Salt and freshly cracked black pepper
For the Herb Sauce:
1 ounce parsley
½ chili, deseeded and sliced (I added a bit of sriracha as I didn't have any fresh chilies)
2 tablespoons olive oil
1 squeeze of lemon juice
Salt and freshly cracked black pepper
Preheat the oven to 400 degrees F and line a baking sheet with parchment.
Prepare all the veggies, remembering that roots take longer to cook, so the thinner you slice, the quicker they will cook. Mix the olive oil, tamari and garlic in a bowl. Place all the veggies except for the kale on the prepared baking sheet and baste with the olive oil mixture. Cook in the oven for 20 minutes then add the kale, then cook for another 10 minutes until tender and golden.
While the veggies are cooking, put the frozen peas into a medium-size pan and heat through with a splash of Plant Cream. Add to a blender and blitz until smooth, then season with salt and pepper to taste and set aside.
To make the herb sauce, put all the sauce ingredients in a blender and blitz with some salt and pepper until you have a lovely smooth sauce.
Once the veggies are brown on the outside and soft in the middle, scoop out the smashed peas onto a large serving plate or divide among portions. Take the veggies out of the oven, place on the mash and drizzle with the herby sauce.
A note about images: Under normal circumstances (that is, not living during a global pandemic) I would feature images from the cookbook supplied by the publsiher. Unfortunately, I was not able to get images before the shutdown so I am using my own photos. I will update when I can. Thanks for understanding! Cheers, Sheri