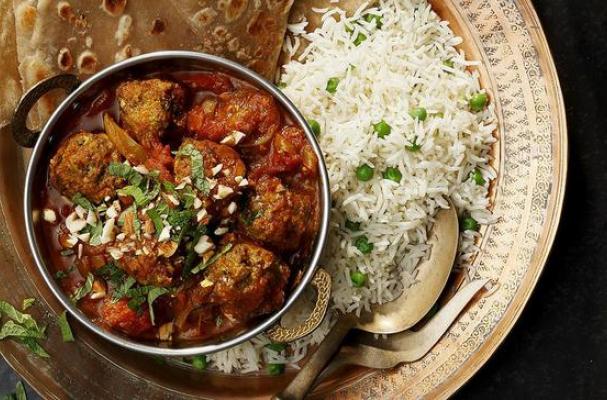 Lamb is one of the most common meats found around the World. From koftas and tagines, to curries and gyros it's truly an international staple.
Did you know that 50% of lamb consumed in the U.S. is imported from New Zealand and Australia? Let's make a pledge together to support our local producers and buy American Lamb. It travels 10,000 miles fewer and 30 days less than imported lamb, is milder and more flavorful, and it's a better value as it has more meat on the bone than imported meat. But best of all, we are supporting our American producers!
Each year, we host a conference for food bloggers known as the International Food Blogger Conference (held this year, July 28-31 in Sacramento, CA) and American Lamb is once again a sponsor of our event. Last year, they held a session on butchery and cooking with different cuts of lamb that was ingenenous! As an avid lover of lamb American Lamb is my go-to site for inspiration on cooking lamb in different ways. Here are a few globally-inspired ground lamb recipes that will have you and your guests salivating! Be sure to check the recipes section of their website for more culinary inspiration, and remember, buy American!!
"Ground lamb in particular is versatile, affordable and delicious in meatballs, tacos, burgers, and stir-fry, especially when paired with globally-inspired spices." ~America Lamb
Try the following spices with these different cuisines:
Asian: curry, ginger, mustard seed
Mediterranean: Greek oregano, garlic, lemon peel, mint
Latin: cumin, ancho and chipotle chile powders, garlic
Middle Eastern: coriander, paprika, cinnamon
Here are 5 global recipes featuring ground American lamb your family is sure to love!
American Lamb Meatballs in Fragrant Indian Curry Sauce (shown at top)
Serves 4
1 pound ground American lamb
3/4 cup grated paneer cheese (optional) or use farmer's cheese or ricotta salata
2/3 cup fresh mint, chopped, plus more for garnish
1/4 cup dry breadcrumbs
1 large egg
2 Tbsp garlic, minced
1 Tbsp fresh ginger, minced
2 tsp garam masala
Kosher salt to taste
2 Tbsp butter
1 large yellow onion, thinly sliced
1/4 cup tomato paste
1/2 tsp medium chile powder, such as Indian Kashmiri or New Mexican
1 tsp each ground turmeric and cumin
1 28-ounce can diced tomatoes with juices
Cooked basmati rice for serving
Toasted almonds, chopped, for garnish
Preheat the broiler with a rack positioned at the top.
In a large bowl, mix together the lamb, paneer cheese, half of the mint, breadcrumbs, egg, 1 tablespoon of the garlic, the ginger, 2 teaspoons of the garam masala, and 1 teaspoon of salt. Toll the mixture into 16 meatballs. Arrange the meatballs, turning occasionally, until nicely browned on all sides, about 10 minutes.
Heat the butter in a lager heavy pot over medium heat. Add the onion, tomato paste, and chili powder and cook, stirring often, until the tomato pasted had darkened and the onion is soft, 6-8 minutes. Add the remains 1 tablespoon garlic, turmeric and cumin, and cook, stirring often, until the bottom of the pot begins to brown, about 4 minutes. Add the tomatoes and 1 1/2 teaspoons salt, and stir to scrape the browned bits off the bottom of the pot. Add the meatballs and bring to a simmer. Cook at a gentle simmer until the sauce thickens, about 8-10 minutes.
Stir in the remaining mint and garam masala.
Serve over basmati rice and garnish with mint and chopped toasted almonds.
Spicy Chipotle American Lamb Tacos with Cabbage, Radish and Pineapple Slaw
Serves 4
1 1/2 pounds ground American lamb
1/3 cup yellow onion, finely chopped
3 cloves garlic, minced
1 1/2 tsp dried oregano
Kosher salt to taste
2 chipotle chiles in adobo sauce, plus 3 tablespoons of the sauce
4 cups finely shredded green cabbage, soaked in cold water for 20 minutes, then drained
1 bunch radishes, thinly sliced
1 cup pineapple, diced
4 green onions, thinly sliced diagonally
1/3 cup fresh cilantro, coarsely chopped
The juice of 1 lime
Warm corn or flour tortillas for serving
Optional toppings: chopped avocado, salsa verde, crema (Mexican sour cream) or sour cream, crumbled quest fresco or cotija cheese, pickled jalapeños, cilantro leaves, lime wedges
Heat a large skillet, preferably cast-iron, over high heat. Add the lamb, yellow onion, garlic, oregano and 1 teaspoon of salt, and break up the lamb into small pieces. Cook until the liquid evaporates and the lamb in nicely browned, 12 - 15 minutes. Strain off excess fat and return the pan to medium-low heat. Add 1/3 cut water, the chipotle chiles and adobo sauce and stir to combine, scraping up any bits from the bottom of the pan. Cook until the sauce clings to the lamb, 2 to 4 minutes. Taste and adjust the seasoning.
Meanwhile, toss the cabbage, radishes, pineapple, green onions, and cilantro in a large bowl. Add the lime juice, sprinkle with 1/2 teaspoon of salt, and toss to combine well. Taste and adjust the seasoning.
Spoon the meat into warm tortillas and top each with a generous heap of slaw. Serve with other topping options on the table.
America Lamb Kofta Gyros
Serves 4
Did you know that Greeks have the highest per capita consumption of lamb in the European Union?
1 small red onion
2 cups cherry tomatoes, quartered
15-ounces canned chickpeas, drained and rinsed
1/2 seedless cucumber (such as English), quartered lengthwise and chopped into triangles
2 Tbsp red wine vinegar
2 Tbsp Extra virgin olive oil
Kosher salt to taste
1/2 cup mint leaves, loosely packed
12 ounces ground American lamb
2 Tbsp Italian flat leaf parsley, finely chopped
2 Tbsp dry breadcrumbs
2 garlic cloves, minced
1 tsp Aleppo pepper or other mild chile powder
8 wood skewers, soaked at least 30 minutes in water
1/2 cup labneh (strained yogurt) or plain Greek yogurt
4 pitas, warmed on the grill
Finely grate half the red onion, and drain off the excess liquid in a strainer. Thinly slice the other hand and soak it in ice-cold water for 10 to 20 minutes, then drain well.
In a large bowl, combine the sliced onions, tomatoes, chickpeas, cucumber, vinegar, olive oil and 1/2 teaspoon salt. Stir in the mint leaves just before serving.
In another bowl, combine the grated onion, lamb, parsley, breadcrumbs, garlic, Aleppo pepper and 1/ teaspoon salt. Divide the meat into 8 portions and form each portion into an oval meatball around the top third of a wood skewer.
Prepare a hot fire in a gas or charcoal grill, or heat a grill pan over medium-high heat. Oil the grill grates and arrange the skewers over the hottest parts. Grill until nicely charred on all sides, turning occasionally about 5 yo 7 minutes total.
Spread 2 tablespoons of the labneh in the center of each pita and top with 2 of the kofta (skewers removed) and a big spoonful of salad. Fold the pita around the fillings and serve, with the remaining salad passed at the table.
American Lamb Gyro Quinoa Bowls with Tzatziki Sauce
Serves 4
16 ounces ground American lamb
2 tsp cumin
1 tsp dried oregano
1 tsp crushed red pepper flakes
1/2 tsp dried rosemary
1 Tbsp lemon juice
3 cups cooked quinoa
1 medium red onion, chopped
1 cucumber, sliced
4 ounces crumbled feta cheese
1/4 cup parsley, chopped
For the Tzatziki Sauce:
3/4 cup Greek yogurt
1 cucumber, seeded and finely chopped or grated
1 Tbsp fresh lemon juice
2 tsp fresh dill, chopped
3 garlic cloves, minced
1/2 tsp balsamic vinegar
1/2 tsp sea salt
Heat a large skillet to medium heat. Spray well with cooking spray and add ground lamb, cumin, oregano, red pepper flakes and rosemary. Crumble and cook until brown, stirring often. Remove from heat and stir in lemon juice.
Meanwhile, make the tzatziki sauce by combining yogurt, cucumber, lemon juice, dil, garlic, vinegar, and salt.
Divide quinoa among 4 bowls. Top with lamb, red onion, tomato, cucumber, and feta. Drizzle with tzatziki sauce and garnish with parsley.
Middle Eastern-style American Lamb Sliders with Yogurt Sauce
Serves 8
Did you know that lamb is the principle festive dish of the Middle East? It's often served at important religious festivals as well as after a birth, marriage or death.
For the yogurt sauce:
3/4 cup plain Greek yogurt (nonfat or 2%)
1/2 cup English cucumber, grated and well-drained of liquid
1 clove garlic, minced
Salt and pepper to taste
2 Tbsp Fresh mint or parsley, chopped
8 slider buns
1 cup organic baby spinach leaves
For the burgers:
1 pound ground American lamb
1/4 onion, finely chopped
1/4 cup red bell pepper, finely chopped
1 Tbsp fresh parsley, finely chopped
1/2 tsp ground cumin
1/4 tsp dried oregano
A pinch of ground coriander
1 clove garlic, minced
1/2 tsp kosher salt
1/4 tsp freshly ground black pepper
A pinch of red pepper flakes (optional)
To make the yogurt sauce:
Combine the drained, grated cucumber, Greek yogurt, sour cream, garlic, salt and pepper and mint or parsley in a small bowl. Put in the refrigerator while you prepare the burgers to allow the flavors to blend.
To make the burgers:
In a large bowl, combine the American lamb, onion, red bell pepper, parsley, cumin, oregano, coriander, garlic, red pepper flakes (if using) and salt and pepper. Gently mix to combine.
Divide meat mixture evenly into 8 balls and shape into small patties. Heat a grill or indoor grill pan, coated with some oil or cooking spray, on medium-high heat. When pan is hot, add the burgers and cook on each side for about 3-4 minutes, or until the internal temperature is 160° F.
To assemble the burgers:
Remove yogurt sauce from the refrigerator. Line up toasted bun bottoms on a platter. Spread about 1-2 tablespoons of yogurt sauce onto each bun bottom, top with burger, then a few spinach leaves, and then the top of the bun. Secure with picks, if desired. Serve immediately.
All recipes courtesy of American Lamb.
Editorial disclosure: American Lamb is a sponsor of our 2017 conference, but Foodista was not directly paid for this post. As an actual user of their product, I wanted to share these amazing recipes with our broader food loving community.