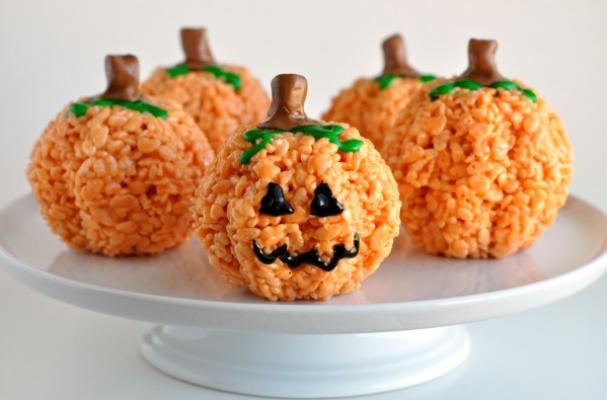 These outrageous orange treats are colored coordinated to match tonight's Halloween festivities. Whether it be a giant monster cake, jack o'lantern rice krispie treats or tri-colored gelatin stacks, your eaters will be lured by the bright colors and delicious offerings to eat. Check out our list of favorite scary good black foods to accompany these orange hued sweets.
Layered Orange Jello Squares
Recipe from Something New For Dinner
These layered orange, black and purple gelatin squares are almost too pretty to eat. These are a fun food to make and kids will absolutely love them. Also, since they are study dessert, they are perfect for traveling so there is no need to worry about a cake toppling over on the way to the party.
Candy Corn Sugar Cookie Stacks
Courtesy of Betty Crocker
Candy corn sugar cookie stacks are a sweet and simple Halloween treat. Sugar cookie dough that has been colored yellow and orange and layered on top of one another. Once baked, the cookie bars are topped with white frosting to complete the candy corn trio.
Orange Monster Cake
Recipe from Makoodle
This creative orange monster cake is just the ticket for getting into the Halloween spirit. There is no need for any special decorating skills, all you need are some tubes of icing or a piping bag fitted with a small tip. The cake pop eyes balls are made from dipping them into orange and white candy melts with a chocolate chip for the pupil.
Pumpkin Snickerdoodle Truffles
Recipe from Sarah's Bake Studio
Halloween is all about the candy and nothing beats homemade pumpkin snikerdoodle truffles. They are smooth, sweet, and spicy with a distinct pumpkin flavor. These velvety treats can be stored up to 4 days in an airtight container but I doubt they will last that long.
Jack O'Lantern Treats
Recipe from Food, Family and Finds
These adorable Jack O'lantern rice krispie treats are a no bake sweet that can be made in a flash. Rice cereal is combined with butter, melted marshmallows and food coloring to form the base of the pumpkins. They are shaped using a mini bundt cake pan which gives them curves similar to those seen on a real pumpkin. A tootsie roll stem and green icing leaves decorate the top while black icing is used to draw on the face.
Image Sources: