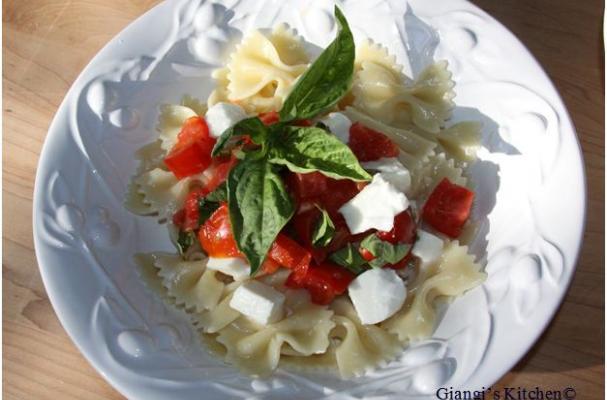 Tomato, mozzarella, and basil pasta from Giangi's Kitchen is a simple summer dish. Chopped fresh summer tomatoes are combined with pasta, sweet basil and creamy mozzarella. The mixture is heated in a saute pan just until warm so that the flavors remain bright. The recipe recommends using farfalle (bow tie pasta) but any short pasta will do. Tomato, mozzarella, and basil pasta can be enjoyed straight from the pan or can be eaten cold on a hot evening.
Ingredients:
1 pound Farfalle pasta
2 large mozzarella, diced
4 large tomatoes, seeds removed and diced
¼ cup fresh basil leaves cut in thin slices
Unsalted butter
Salt and pepper
Olive oil
Directions:
Boil a large pot of salted water and cook the pasta according to the package directions. When done drain, place back in the cooking pan and add the butter.
In a large skillet sauté the tomatoes with the olive oil, 5 minutes. Remove from the heat and add the basil.
In a large bowl add the pasta, the tomatoes and mix well. Add the mozzarella and give it a last light folding.
Serve immediately
Image Sources: