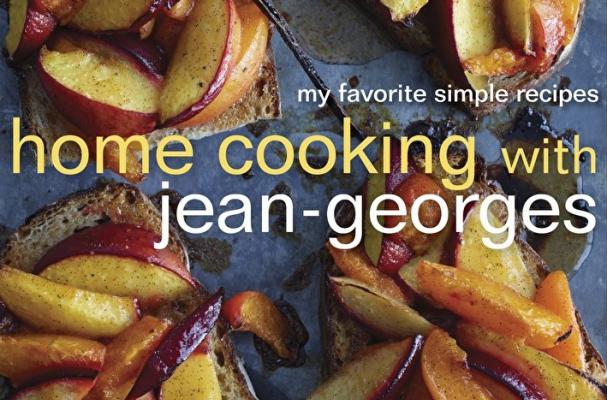 In Chef Jean-Georges Vongerichten's new book Home Cooking with Jean-Georges: My Favorite Simple Recipes, explores one chef's kitchen and the everyday food he prepares in it. The recipes do not require esoteric ingredients, special equipment- they are simple but delicious dishes that can be made with minimum effort. He emphasizes quick and seasonal cooking. Some of the Vongerichten family favorites that the home cook will learn how to prepare include: watermelon and blue cheese salad, parmesan-crusted chicken, fresh corn pudding cake, butternut squash with balsamic and chile panko crumbs, fettuccine with Meyer lemon cream sauce, and tarte tatin. With Easter just around the corner, we've decided to share a lamb recipe. Instead of a traditional lamb roast, Chef Vongerichten braises lamb shanks in soy, ginger and lemongrass. The flavors of this dish sing of Asia and will be a totally unexpected meal for Easter Sunday.
Soy-Braised Lamb Shanks Serves 4
Grapeseed or other neutral oil
4 whole (2-pound) lamb shanks, trimmed and patted dry
2 medium yellow onions, sliced
2 medium shallots, sliced
13 garlic cloves, sliced
Kosher salt
2 Asian pears, cored and cut into 2-inch chunks
1 bunch scallions, green parts only
2 lemongrass stalks, smashed and thinly sliced
5-inch piece fresh ginger, peeled and chopped
1 fresh long red (finger) chile, stemmed, seeded, and sliced
4 whole star anise
1 ¼ cups semidry Gewurztraminer or Riesling
1 cup champagne vinegar
¾ cup soy sauce
½ cup honey
Preheat the oven to 325°F.
Heat a large Dutch oven over high heat until very hot. Add enough oil to generously coat the bottom of the pan and heat until almost smoking. Carefully slide in the lamb shanks in a single layer. Do not crowd the pan; cook in batches if necessary. Cook until golden brown on one side, about 4 minutes. Turn on another side and continue cooking and turning to evenly brown all sides and the top, about 8 minutes longer. Drain all of the fat from the pan.
Meanwhile, heat a large sauté pan over medium heat. Add enough oil to generously coat the bottom of the pan and heat until shimmering. Stir in the onions, shallots, and garlic. Season with a pinch of salt. Cover and cook, stirring occasionally, until golden brown and tender, about 10 minutes.
Add the onion mixture to the pan with the lamb, along with the pears, scallions, lemongrass, ginger, chile, anise, wine, vinegar, soy sauce, and honey. Add enough water to cover the lamb by ½ inch. Cover and bring to a boil. Transfer to the oven and braise until the meat is completely tender and falling off the bone, about 3½ hours. Uncover and carefully transfer the lamb shanks to a dish. Raise the oven temperature to 375°F.
Strain the braising liquid through a fine-mesh sieve into a large saucepan, pressing on the solids to extract as much liquid as possible. Bring to a boil and continue to boil over high heat until reduced by a third. Return the shanks to the Dutch oven, meat side down, and pour the reduced liquid over them. Transfer to the oven and cook, basting every 5 minutes, until lacquered with a mahogany glaze, about 15 minutes. There should still be syrupy sauce left in the pan.
Serve the lamb shanks with the sauce spooned over the meat.
Image Sources: