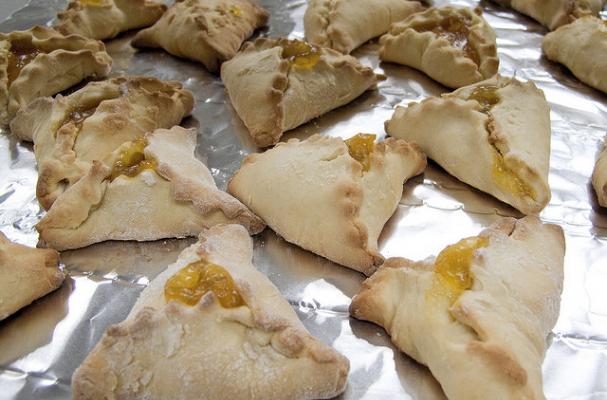 Purim, hailed as the "Jewish Halloween" is one of my favorite Jewish holidays. Growing up, we would always attend the carnival at my shul, dress up in costumes, play ridiculous games and eat way too many hamantaschen. Fortunately, this tradition did not have to end with our Celiac diagnosis! Here is a brief overview of the Purim story, which is read in synagogues across the world, including appropriate sound effects -- for our shul, whenever the King's name was mentioned we would make trumpeting fanfare sounds, when the Queen was mentioned we would Ooh and Ahh at her beauty, and whenver Haman's name was mentioned we would Boo so loudly as to drown out the sound of his name!
Here's where the cookies come in: hamantaschen are triangular cookies with a sweet, often fruity, filling in the center. Said to be shaped like either Haman's tricorner hat or like his "clipped ears" (from the original Hebrew, describing his shame). Either way, these thumbprint-esque cookies are incredibly delicious and perfect for any time of year.
Hamantaschen with Homemade Poppyseed Filling
A classic combination using a rice flour pastry.
Pareve Hamantaschen
These cookies are GFCF/dairy free/pareve - aka perfect for Passover, too!
Bakery Style Hamantaschen
So good you'll never know they were gluten free! (Also dairy free/pareve!)
Image Sources: