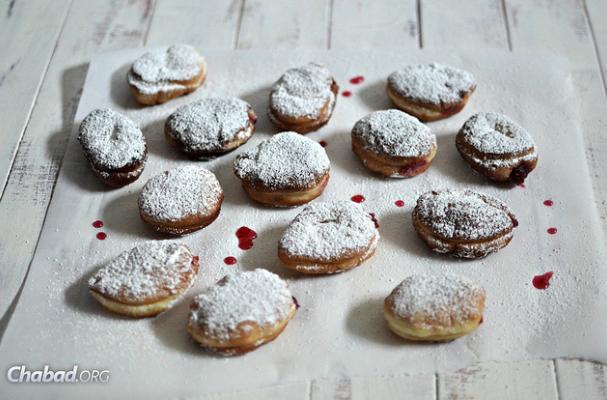 This year Thanksgiving and Hanukkah fall on the same day, bringing us the new holiday Thanksgivukkah. Turkey, potato latkes, pumpkin pie, and jelly-filled sufganiyot -- what's not to like? "There are some similarities between the holidays, namely the food and sharing it with family," said Amy Kirtzer of What Jew Wanna Eat, a food blog focused on modern takes of Jewish cuisine. "Bring these two celebrations together and you have what's shaping up to be the most gluttonous day of the year!"
Since Thanksgivukkah won't happen again for about 70,000 years, we're celebrating with a food photo contest with our friends at Fork (Food, Photos and Friends) and What Jew Wanna Eat, the folks behind @Thanksgivukkah. They want to see your best food photos from when these holidays collide on Nov. 28. The winning photo will be selected from all photos added to the Fork app and tagged #Thanksgivukkah. The prize package includes:
* a $200 Whole Foods gift card to (for your next holiday cooking adventure)
* an 'American Gothikkah' Thanksgivukkah poster
* a special Fork T-shirt
We can't wait to see your creations!
Wondering what to make on this special day for your family and friends? Check out Amy's yummy recommendations from What Jew Wanna Eat:
Pumpkin butter and caramelized fig rugelach
Mushroom challah dressing
Sweet potato latkes with cranberry pecan applesauce and cinnamon yogurt
Chocolate cranberry cake with gelt glaze
Apple spice latkes with cinnamon yogurt and caramel sauces
Gorgonzola mashed potato latkes with jalapeno apple relish
And for everything Thanksgivukkah, visit:
The Thanksgivukkah blog
Thanksgivukkah on Facebook and Twitter
About Fork: An iOS app launched in Sept., Fork makes it easy to share, save and organize all your food photos while sharing your food stories with friends.
Demo video
USA Today coverage
Fork online: www.getfork.com | On Twitter | On Facebook
Image Sources: