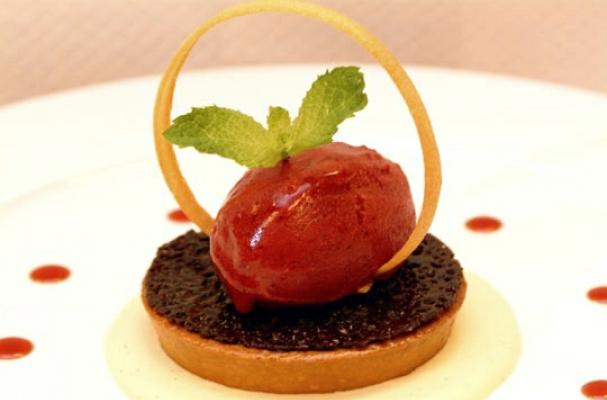 In anticipation of the fourth annual Food & Wine All-Star Weekend in Las Vegas, we'll be sharing celebrity exclusive celebrity chef recipes only available to Foodista readers once a week from the iconic, culinary masters participating in the food festival taking place October 4-6 at ARIA Resort & Casino, Bellagio and MGM Grand (purchase tickets here).
This week's recipe comes from a previous World Pastry Champion, Jean-Phillipe Maury. Known for his intricate delicacies, Maury will be crafting tasty desserts at ARIA's All-Star Brunch, Saturday October 5.
"Rouge et Noir"
Warm Chocolate Tart with Candied Ginger Raspberry, Tahitian Emulsion, and Raspberry Sorbet.
Ingredients:
Composition
Sweet Dough
Chocolate Ganache
Candied Ginger Raspberry
Vanilla Emulsion
Raspberry Sorbet
Sweet Dough
1 ¼ cups Flour
Pinch of Salt
6 tbsp Butter
1/3 cup Confectioner Sugar
1 Egg
Procedure
Mix butter and sugar in mixing bowl.
Slowly add egg to mix.
Add the flour and salt.
Keep refrigerated.
Chocolate Gananche
1 cup Bittersweet Chocolate chips
½ cup Butter
3 ½ tbsp Sugar
1 Egg
2 Egg yolks
1 Vanilla bean
Procedure
Melt chocolate and butter in a double boiler.
Add the remainder of ingredients to mixture.
Set aside.
Candied Ginger Raspberry
1 ½ cup Fresh Raspberries
½ cup Sugar
1 tsp Lemon juice
1 tsp Ginger root, diced
Procedure
Combine all ingredients together, keep refrigerated for 4 hours.
Heat the preparation to 170ºF. for 5 minutes.
Let infuse for 12 hours in the cooler.
Strain the juice, set the raspberries aside.
Reduce the juice to a syrup texture, set aside.
Vanilla Emulsion
1 cup Heavy cream
¼ cup Sugar
5 Egg Yolks
1 Vanilla bean
¼ cup Whipped cream
Procedure
Bring heavy cream, sugar, and vanilla bean to a boil.
Gradually add this mixture into a separate bowl containing yolks; return to saucepan.
Bring to 185F, and then chill in water bath.
Fold in the whipped cream just before serving.
Raspberry Sorbet
4 cups Fresh Raspberries
¾ cup Water
1/3 sugar Granulated Sugar
Procedure
Using a food processor, puree the fresh raspberries and set aside.
Mix water and sugar in large pot; bring to boil.
Let it cool.
Fold in the raspberry puree.
Place mixture into ice cream maker.
PROCEDURE TO MAKE THE DESSERT
Make a tart shell with the sweet dough. Pre-bake the tart shell for 15 min. at 300ºF.
Place in the bottom 5 candied raspberries. Pour the chocolate ganache all the way to the top.
When ready to serve, bake the tart 10 min. at 200ºF.
Place the tart in the middle of the plate. Decorate with the vanilla emulsion and the raspberry juice.
Place a quenelle of raspberry sorbet in the center of the tart.
To finish, decorate as desired.