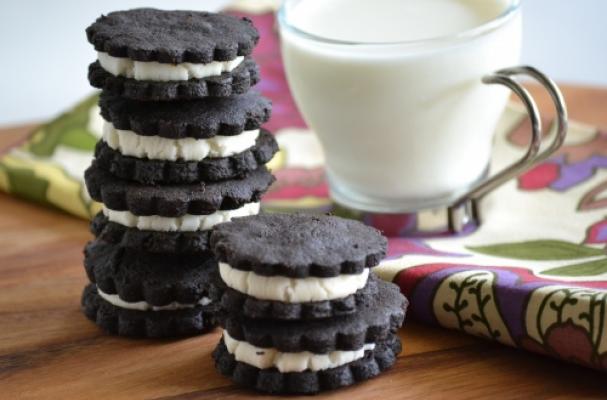 Blog writer Let's Talk Cookies tackles the challenge of making homemade Oreo cookies. An Oreo is a one of a kind treat with two crunchy chocolate cookies sandwiched with a sweet white cream. After researching and experimenting with many versions, she came up with this recipe. She claims that they taste just like the real thing (without the artificial flavors and preservatives). These cookies will take time but your efforts will be rewarded with this fantastic childhood favorite.
Chocolate Cookie Wafer:
1 1/2 cups + 3 TB All Purpose Flour
3/4 cup sugar + 1 TB
1/2 cup Dutch process cocoa powder
1/4 cup + 1 TB Black cocoa powder
1/2 tsp baking soda
1 1/2 tsp salt
15 TB unsalted butter, cubed, and chilled
Filling:
1/2 stick room temp butter
1/4 cup shortening
2 cups sifted confectioners sugar
2 tsp vanilla
For full recipe instructions, click here
Image Sources:
Categories:
Want more from Foodista? Sign up below!