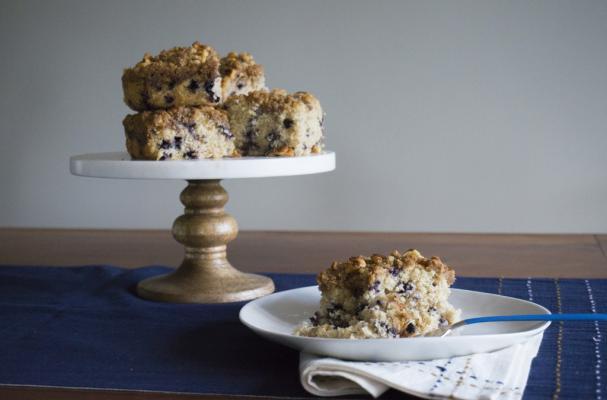 Busy spring means lots of snacks. Yep, this weather signals one of our busiest times of the year on the farm. Getting ready for planting time means we work hard and don't have a lot of breaks. It's much easier to start the day with a tasty snack and warm drink than it is to sit down to a meal. I love offering coffee cake style breakfasts so everyone can get started as soon as possible.
This one, from Foodista contributor, Oats&Sesame, is a delicious way to start the day. Being from Maine, there are boxes of frozen blueberries in my freezer all year round, and frozen berries work perfectly for this. A little tip to keep your berries suspended nicely in the cake; use a tablespoon of flour and toss the frozen berries in it before adding to your batter. No more weeping berries and they will stay evenly mixed as the cake bakes.
If you are lucky, you can save a piece for the next day. It's even better!
Cake:
½ cup (1 stick) butter, softened
¾ cup sugar
½ cup milk
1 egg
2 cups all-purpose flour (a great place to sneak in a little whole wheat flour, I used 1/2 cup)
2 teaspoons baking powder
½ teaspoon salt
2 cups blueberries (use more if large blueberries), fresh or frozen
Topping:
2/3 cup firmly packed brown sugar
½ cup all-purpose flour
1 teaspoon cinnamon
6 Tablespoons butter, cubed
½ cup chopped walnuts
optional: 1/4 cup crumbled almond paste
Preparation
1 Heat oven to 375°F.
2 Butter a 9-inch square pan.
3 For the cake:
4 In a large bowl, beat softened butter and sugar until blended.
5 Add milk and egg.
6 In another bowl, combine flour, baking powder and salt.
7 Add to butter mixture and mix just until combined. The batter will be very thick.
To see the complete recipe, click here.
Image Sources: