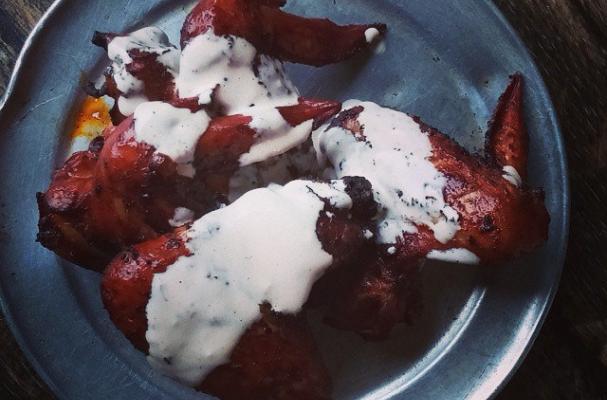 Every Super Bowl party needs a great chicken wings dish and we think this one scores big! Chef Edward Lee's chicken wings recipe features one of our favorite Korean condiments, gochujang, a spicy and pungent blend of chili peppers and salty fermented goodness. Seriously, you want this stuff on your chicken. Chef Lee's spicy sweet chili sauce marinade is brushed over wings which are then baked (or smoked if you've got a smoker) until browned and nicely crisped. Serve them up with his tasty Alabama white BBQ sauce for dipping and your game day crowd will cheer!
Gochujang Wings with White BBQ Sauce
Recipe by Chef Edward Lee
12 whole chicken wings
Salt & pepper
For the Marinade:
½ cup Chung Jung One Gochujang Korean Chili Sauce
6 tablespoons sweetened condensed milk
2 tablespoons fish sauce
1 ½ tablespoons Worcestershire sauce
1 tablespoon apple cider vinegar
1 tablespoon sesame oil
Step 1. Preheat oven to 300 F.
Step 2. Rinse wings and pat dry. Season generously with salt & pepper. Let salt absorb for 20 minutes at room temperature.
Step 3. Meanwhile, make marinade by whisking together all the ingredients in a bowl.
Step 4. Brush marinade onto the wings. Transfer wings to a rack placed on a sheet pan, and bake in the oven for 30 minutes.
Step 5. Turn heat up to 425 F. Take wings out of the oven and brush with another layer of marinade. Return to oven and cook for 12 – 15 minutes until wings are nicely browned and cooked in the middle. Note: Alternatively, if you have a smoker, smoke wings at 225 F for 1 hour. Remove from smoker and brush additional marinade onto the wings. Cook in a 425 F oven for 8 – 10 minutes until browned and crispy on the outside.
White BBQ Sauce
1 cup Duke's Mayo
¼ cup apple cider vinegar
1 tablespoon mustard
1 tablespoon prepared horseradish
2 garlic cloves, finely minced
2 teaspoons Worcestershire sauce
½ teaspoon celery seeds
¼ teaspoon smoked paprika
Salt and pepper to taste
Step 1. In a bowl, whisk together all of the ingredients.
Step 2. Chill for at least 30 minutes (preferably overnight).
Step 3. Use as a dipping sauce for the Gochujang Wings.