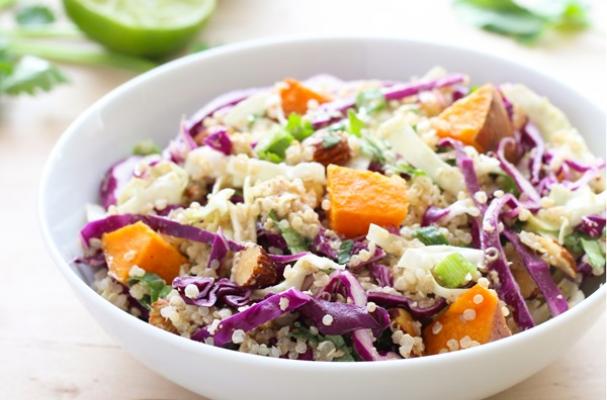 In the last couple of years, quinoa has been classified as a superfood because of its numerous health benefits. It is a protein-dense, nutrient-rich food that goes with just about anything. This ancient seed hails from the Andes mountains in Peru and is widely available in markets across the country. Similar to rice, there are different varieties of quinoa including black, white and red quinoa. You can use any one of the varieties in these amazing quinoa salad recipes.
Winter Rainbow Quinoa Salad
Recipe from Pinch of Yum
Winter produce is plentiful and this rainbow quinoa salad highlights these wonderful seasonal ingredients. Apples, beets, pomegranate seeds, spinach, and pistachios are paired together in this killer salad. You can make a double batch and pack it up in jars to take to work the next day.
Chicken Quinoa Salad with Apricot Vinaigrette
Submitted to Foodista by Mother Rimmy's Cooking Light Done Right
Photo Credit: esimpraim
Chicken salad with quinoa and apricot vinaigrette proves that healthy food does not have to be bland and boring. Tender chicken is paired with quinoa on a bed on greens with goat cheese and an amazing apricot dressing that brings the whole dish together.
Mango Quinoa Salad
Submitted to Foodista by Active Foodie
Mango quinoa salad is low in calories but high in flavor. Red quinoa is cooked in a mixture of stock, mango nectar, and fresh lime juice. Each individual seed is filled with these bright flavors. It is then tossed in a dressing that reflects those same seasonings and some crunchy veggies. The shrimp are simply sauteed with garlic and red pepper flakes.
Quinoa Power Bowl
Recipe from Making Thyme for Health
The quinoa power bowl is filled with an array of addicting flavors and textures. Unlike your typical salad, this one has unbelievable crunch from the cabbage and almonds. In keeping with the Asian flair, the salad is tossed with a homemade almond butter dressing.
Image Sources: