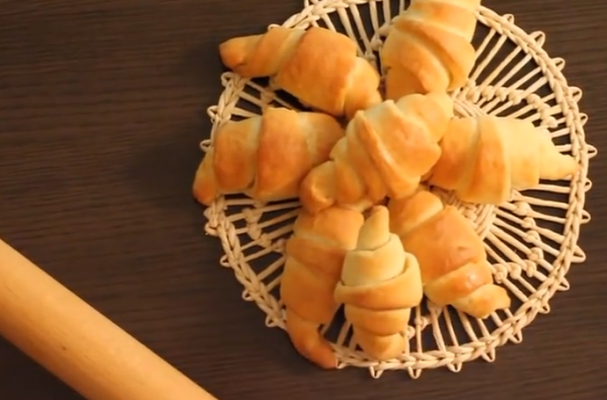 Crescent rolls are an integral part of Thanksgiving dinner. The impossibly buttery layers balanced with a golden brown crust is heaven with each bite. While most people turn to the convenient prepared Pillsbury crescent roll dough, this copycat version is easy enough to bake in your own kitchen. Any recipe you can make with the store bought crescent rolls can be made with the homemade ones. Follow the recipe below to bake these must-have rolls for Thanksgiving.
Copycat Pillsbury Crescent Rolls
Makes 32 rolls
Ingredients:
3 1/2 cups flour
25 g fresh yeast (2 1/4 teaspoons active dry yeast or 2 teaspoons of instant yeast)
1/3 cup warm water
3/4 cup warm milk
1 1/2 tablespoons sugar
2 eggs
1 teaspoon salt
4 tablespoons butter, softened
Filling:
4 or 5 tbsp butter, softened
Topping:
1 1/2 tbsp butter, melted
Visit Home Cooking Adventure for full recipe instructions.
Bacon and Cream Cheese Crescent Rolls
Courtesy of Kraft
Few things are better than when bacon and cheese meet with buttery bread and have a party. These easy dinner rolls come together in a flash and only require three ingredients. You might have to prepare a double batch because these bacon, chive and cream cheese crescent rolls are really that good.

Huevos Rancheros Crescent Casserole
Courtesy of Pillsbury
Huevos rancheros crescent bake is a quick and easy brunch recipe. Eggs are baked in the middle of sweet crescent roll dough until they set. The dish is served with a spicy chipotle tomato sauce. I like to serve this casserole with shredded Mexican cheese and a side of refried beans.
Salted Caramel Crescent Doughnuts
Courtesy of Pillsbury
Nothing beats a piping hot doughnut straight from the fryer. You can use homemade crescent roll dough or homemade depending on how much time you have on your hands. Once each doughnut has turned golden brown, they are filled with vanilla pudding and topped with a thick and decadent caramel sauce and a sprinkling of sea salt.
Image Sources: