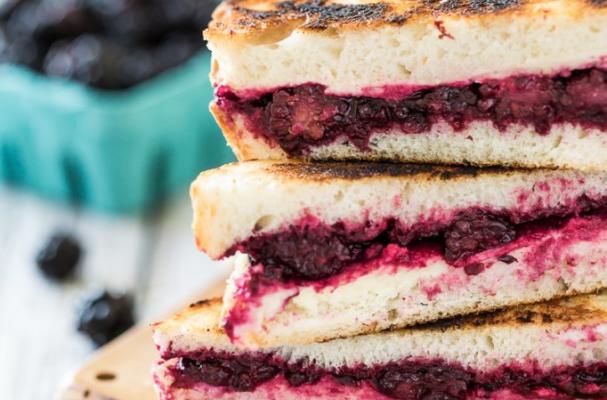 Grilled cheese is one of the best yet simplest meals on earth. Crispy buttered bread, ooey gooey melted cheese and maybe a few other ingredients to amp up the flavor of the sandwich. This round up of grilled cheese focuses on pairing a variety of fruits and cheeses which are natural friends in the food world. A good cheese plate always include some kind of fruit, dried or fresh. These sandwiches explode with flavor and are a quick summer meal.
Bacon, Brie and Strawberry Grilled Cheese
Recipe from Heather Christo
Bacon makes everything taste better. period. When paired with gooey brie cheese and sweet and slightly tart strawberries makes for a totally amazing sandwich.
Honey Glazed Peach and Pork Tenderloin Grilled Cheese
Recipe from Melanie Makes
Pork and fruit have a natural affinity for one another. The sweet southern peaches are simmered in moscato wine, honey, coriander and ginger before its layered in between two slices of whole wheat bread with blue cheese and juicy pork tenderloin.
Red, White and Blue Grilled Cheese
Recipe from Ari's Menu
Raspberry jam, fresh blueberries and creamy brie cheese is heated between two pieces of grilled whole grain bread (really what's not to love?). The sweetness from the berries compliments the nutty brie cheese in a perfect flavor balance.
Cheddar Apple Grilled Cheese
Submitted to Foodista by Joanie Gioe
This simple grilled cheese only has three ingredients: bread, cheddar cheese and apple slices. If you want to enhance the apple flavor, spread on some apple butter before layering on the cheese and apple.
Blackberry Macadamia Ricotta Grilled Cheese
Recipe from Keepin it Kind
Lemon lavender blackberry sauce is paired with a macadamia nut ricotta cheese to create a vegan grilled cheese. Macadamia nuts have a high fat content which makes it a perfect candidate for faux cheese.
Image Sources: