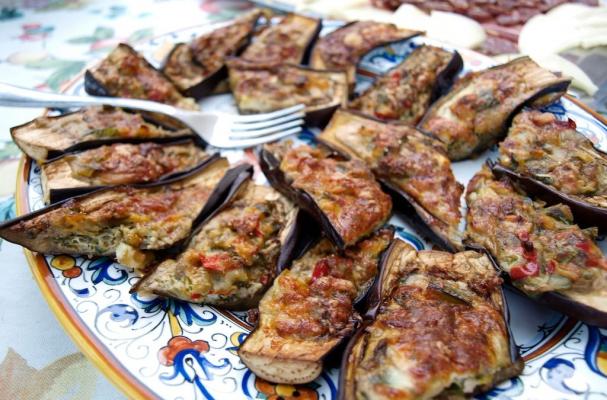 This scrumptious dish from La Tavola Marche is like a vegetable quiche stuffed into an eggplant! Sautéed onion, celery, bell pepper, eggplant and tomatoes are combined with egg then poured into scooped-out eggplant shells. They're topped with Parmesan cheese then baked until golden and bubbly. Serve with a simple green salad for a light and healthy meatless Monday meal.
Stuffed Eggplant (Melanzane Ripieno)
Submitted to Foodista by La Tavola Marche
Serves 6
4 eggplants
3 tablespoons olive oil, plus extra for brushing
1 onion, chopped
1 celery stalk, chopped
3 red or green bell peppers, halved, seeded & chopped
4 ripe tomatoes, diced
2 eggs, lightly beaten
3 tablespoons Parmesan cheese, freshly grated
salt & pepper
Halve the eggplants lengthwise & scoop out the flesh without piercing the 'shells'.
Chop the flesh & save the shells.
Heat the oil in a large skillet. Add the onion and cook over low heat, stirring occasionally, for 5 minutes until soft.
Add the chopped eggplant flesh, celery, bell peppers and tomatoes, season with salt & pepper and cook over low heat for 15 minutes.
Preheat the oven to 350 degrees F.
Brush an ovenproof dish with olive oil.
Remove the pan from the heat & stir in the eggs. Fill the eggplant shells with the mixture and place in the prepared dish.
Sprinkle with Parmesan and bake until golden & bubbling!
Remove from the oven and let cool.