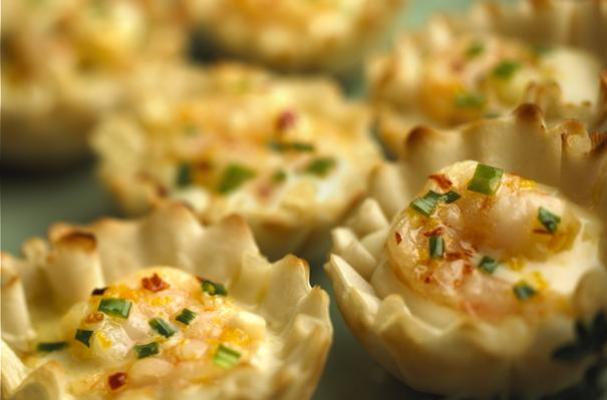 This beautiful appetizer only looks difficult to make, but frozen phyllo tartlet shells make this appetizer recipe a cinch! Simply fill each shell with a bit of Alouette Crème de Brie cheese then toss shrimp is an easy and flavorful combination of olive oil, orange juice and zest, chives, garlic and red pepper flakes. Top each tartlet with a shrimp then brown for a few minutes in the oven. Et voilà!
Alouette Crème de Brie Shrimp Cups
Submitted to Foodista by Alouette
2 packages (2.1 oz each) frozen phyllo tartlet shells
1 package (5 oz.) Alouette Crème de Brie, Original, at room temperature
30 ounces cooked frozen (thawed) or fresh salad shrimp (about ⅔ of a 7 pkg.)
2 tablespoons extra virgin olive oil
1/2 teaspoon grated orange peel
1 tablespoon orange juice
1 tablespoon chopped chives
1/4 teaspoon crushed red pepper flakes
1/8 teaspoon garlic, finely minced
Preheat oven to 350° F
Arrange tartlet shells on a baking sheet. Spoon a scant teaspoon of Alouette® Crème de Brie in each shell.
In medium bowl, combine shrimp and all remaining ingredients. Toss to coat shrimp.
Place 1 shrimp over cheese in each shell. Spoon a little orange juice-chive mixture over shrimp.
Place in the oven for 5 minutes or until lightly brown. Serve immediately.