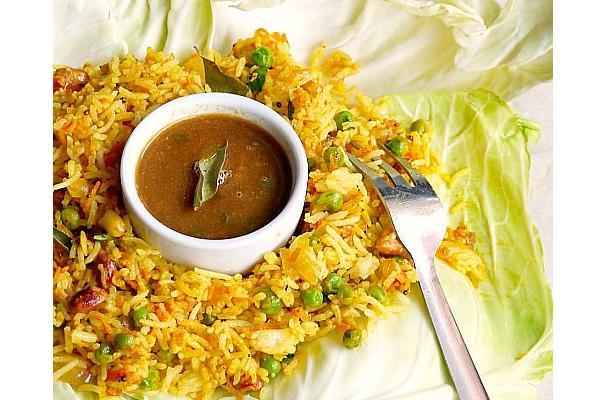 This delicious rasam (a typical South Indian tamarind-based soup) from My Creative Flavors is served alongside a lemon rice that simply bursts with flavor from curry leaves, fresh cilantro, cumin and more. It's a hearth-healthy recipe that everyone will enjoy.
Roasted Tomato Rasam and Lemon Rice
Submitted to Foodista by My Creative Flavors
Serves 4
3 Tomatoes: (I used a bowl of cherry tomatoes)
1/4 cup Lentils:, boiled and mashed
1/2 yellow or white Onion
1 teaspoon Salt, Pepper: or to taste
1 teaspoon Tamarind paste/pulp
1/2 teaspoon Mustard seeds
A few Curry leaves (get fresh ones here!)
1 teaspoon Roasted cumin powder
1 teaspoon Roasted coriander powder
1/2 teaspoon Roasted peppercorn powder
2 cups Water
Fresh Cilantro
Roast the tomatoes, chopped onion and cilantro (lightly brushed with olive oil) in an oven proof dish for 20 minutes at 350 C.
Let it cool for a while and give it a quick churn with hand blender to make puree.
Roasted Tomatoes develop a unique Flavor that makes this Rasam very appetizing
Heat this puree in a pan and add mashed lentils, water, salt, tamarind paste to taste.
I like to add fresh Tamarind pulp that can be made by soaking tamarind in warm water for 30-45 mins.)
Let the mix simmer for 5 - 6 minutes.
In another pan, heat few drops of oil and make a tempering of mustard seeds, curry leaves and freshly chopped cilantro. Mix this tempering in the tomato puree.
Season with freshly roasted cumin, coriander and peppercorn powder to taste to make this tangy Rasam.