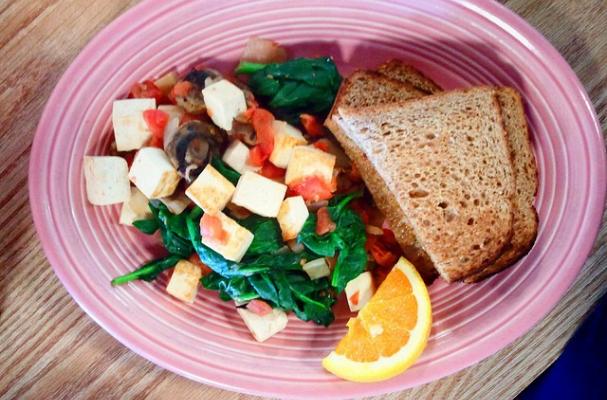 Vegan tofu scramble can be enjoyed for breakfast or dinner. Cubes of firm tofu are sauteed with aromatics and spices. You can add whatever vegetables you have in your fridge to this recipe. Zucchini, red bell pepper, spinach and mushrooms work especially well. Serve your tofu scramble with a slice of whole wheat toast to complete this healthy meal.
Ingredients:
Combine vegetable oil, Bragg's (or tamari, or soy sauce), turmeric, onion and garlic in a
skillet
and
heat
on medium, while
cutting
the tofu into small pieces. Lower the temp of the burner a bit and add the tofu to the mixture in the
skillet.
As the tofu cooks,
mash
it up and make sure that the tofu and
seasoning
mixture are
mixed
well.
Image Sources: