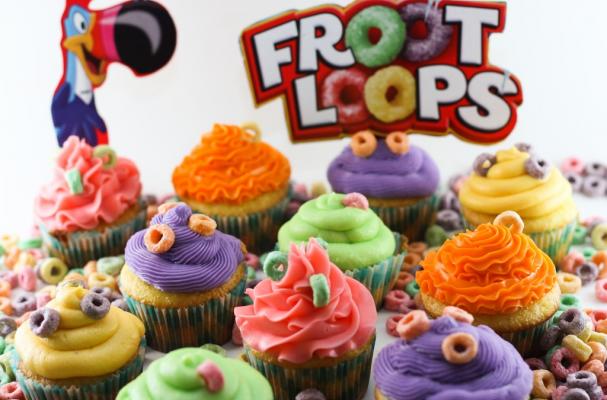 Follow your nose to these fruit loop cupcakes by B's in the Kitchen. A box of lemon cake mix is turned into your child's favorite fruity cereal. The icing is the key to making these cupcakes taste like Fruit Loops. Carlene, the blog's baker, adds different flavors of Jello and food coloring to her vanilla frosting to mimic the colors and flavors of the cereal. She recommends lime, lemon, orange, grape, and cherry (you can also use Kool-Aid mix). Fruit Loop cupcakes are guaranteed to bring back memories from your childhood.
Ingredients:
Cake:
1 box of lemon cake
3 eggs
1 cup of water
1/2 cup of melted butter or margarine
Frosting:
1 1/2 cups butter
3/4 to 1 cup whipping cream
3 tbsp vegetable shortening
4 cups icing sugar
1 tsp vanilla
5 different Jello flavors, 1/4 cup each
food coloring
For full recipe instructions, click here.
Image Sources: