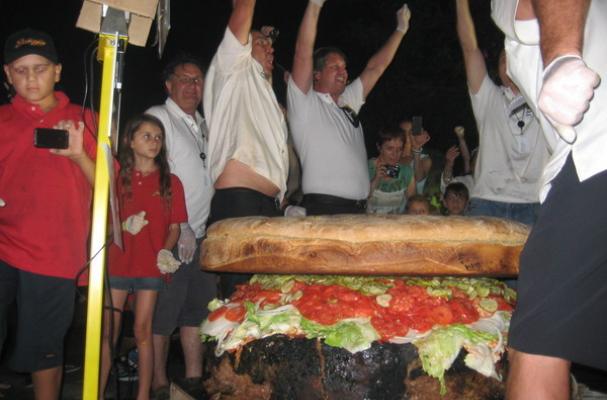 A 777-pound hamburger presented at the Alameda County Fair has shattered the previous Guinness World Record for the world's largest hamburger. The 5-foot-wide burger was made by Juicy's LLC on the Juicy's Outlaw Burger trailer over a 14-hour period.
Tanya Rose of Newark, California Patch was on hand to cover the Guinness World Record attempt, capturing the photo above. Rose reported that the public had to eat the burger for it to be in contention for the win, and hundreds happily paid 99 cents for a bite of the 777-pound hamburger.
The 777-pound hamburger took the title from a Canadian burger that weighed 500 pounds, including its toppings. The Juicy LLC burger had 50 pounds of onions, 12 pounds of pickles and 50 pounds of onions.
Image Sources: