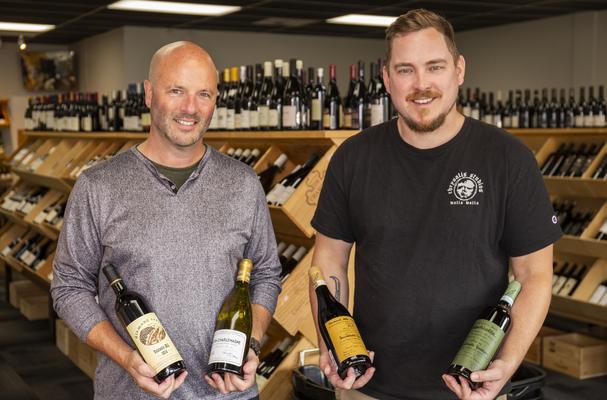 A merger of two great wine companies resulted in Bellevue's new wine company. Jackson Rohrbaugh and his Crunchy Red Fruit and its associated wine club combined forces with the brick-and-mortar Seattle Wine Company, managed by Mark Lowry. The new company is Fruit Wine Company and is located just east of the Bellevue Downtown Core in the Spring District.
Before starting his company several years ago, Jackson, a Master Sommelier, worked at the prestigious Canlis Restaurant as a Wine Director and Sommelier. Worldwide, there are only 275 people who are part of the Court of Master Sommeliers. The Seattle Wine Company has been operating since 2003, and Mark has been there for the last seven years and is currently the buyer and manager.
Jackson's and Mark's enthusiasm and knowledge of wine are very notable. What is also noteworthy is the wide range of wines available at their store. Tell them your wine preferences and budget, and they'll find you the right bottle. Here is information on their wine club. In addition to their store and wine club, they have more plans that will come to fruition later this fall, including wine tastings and educational workshops, which will be in a separate space adjacent to their store.
The highlight of my visit was enjoying one of Jackson's favorite food pairings, Snickers Ice Cream Bar and Cream Sherry. I would never have thought of that pairing, but it was amazing, and I will definitely try it at home.
Image Sources:
Rodrigo DeMedeiros (image 1)