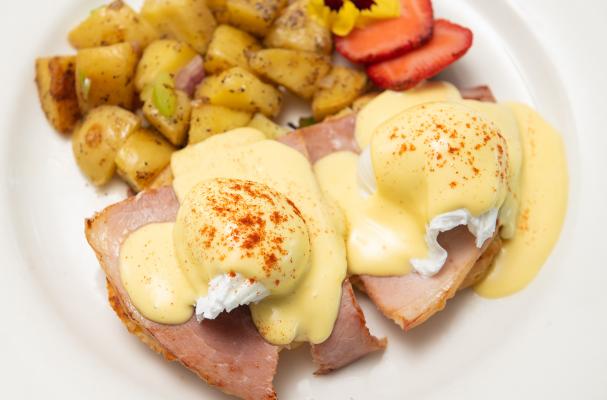 Whale Watching, colorful sunsets, fine dining, and launching our kayak awaited us in Bellingham Bay. The charming city of Bellingham is located just an hour and a half north of Seattle. The Hotel Bellwether was our location for the next several days. Whales in Bellingham Bay are unusual; however, earlier this spring, Humpback whales were seen in the Bay. We'll check out the best whale-watching options later.
Our morning plan was to launch our kayak from the Bellwether pier and paddle south into Bellingham Bay. Before that, we needed to fuel up with a healthy breakfast, and the Lighthouse Benedict was the answer. That hollandaise sauce was the right balance of lemon, and the ham was a perfect match. We were tempted by a mimosa or a Bloody Mary but knew it would be better to imbibe after our paddle.
We carried the kayak through the lobby (yes, the management is fine with that), and the staff generously offered to help, but it helped that we own a lighter-weight inflatable kayak. Once at the Pier, we noticed some strong winds and some whitecaps on Bellingham Bay. Wisely we changed our plan and stayed in the protected inlet where a curious seal greeted us. We continued in the protected waters of Squalicum Harbor and admired the yachts and some of the commercial fishing boats.
After the workout, it was time for some brews and seafood! Rumor has it that Twin Sisters Brewing Company has the best fish and chips in Whatcom County. Expectations were exceeded with the beer-battered cod; flakey with a good crunch and paired with a not overly hoppy Bert's Beer IPA.
I went with my favorite on this hot summer day, Cucumber Mint Gazpacho Soup with citrus, cilantro, and sunflower seeds. Also enjoyed was the Smoked Chickpea with ample amounts of hummus and pickled onion. The best part was the spicy jalapeno crema punch, which was cooled with the Mexican Lager.
Twin Sisters or Twin Brothers for the name? Interesting that the owners have twin boys and initially thought to name their brewery Twin Brothers. But, alas, that name was already taken, so they settled on Twin Sisters, a major peak in the area located just south of Mt. Baker.
Kayaking by Night and Morning
We waited at Wildcat Cove at Larrabee State Park for sunset and the forthcoming evening guided kayaking bioluminescence trip with Dragonfly Kayak Tours. Bioluminescence; words do not describe the magical sparkles that one sees. This is defined as a biochemical emission of light by living organisms such as plankton. As your paddles, or hand, disturbs the plankton, the water lights up. What a show!
The guides were terrific with getting us set up in the sleek sea kayaks and explaining how to steer them. The best part, they knew where to take us to see those sparkles. The two hours of kayaking flew by, and sadly we bid them farewell. I definitely will be looking into booking another of their tours. This was truly one of the best run kayak trips we have experienced!
Morning came quickly, given the late night. However, Evolve Chocolate + Cafe came to the rescue. Located on the top floor of Village books, Evolve has an impressive display of pastries! They also serve a complete weekend brunch and have a full bar with specialty cocktails. Elizabeth enjoyed the Brioche Sweet Roll, and I liked the zucchini bread. We were very tempted to try all the chocolate options but decided we needed to pace our intake of morning sweets.
Five minutes later, we were ready to launch our kayak at MARINE PARK - FAIRHAVEN. We arrived early and secured a great parking spot with a very short walk to the beach.
We were outnumbered by the SUP (Stand Up Paddleboards). They headed north, and we proceeded to the south. We paddled, enjoying the stunning views and occasional small splashes, but all was good on this warm summer day. On the way back to the hotel, we stopped at nearby Bellingham Bay Community Boating Center (CBC) located adjacent to the free public boat launch. The CBC offers sea kayaking lessons, rentals, and outings (check it out here).
Whale Watching
Another busy day on the water, and this time we could relax and let someone else be the captain, San Juan Cruises. The goal today was whale watching, and we were almost assured of getting to see some whales by their motto: "Guaranteed whale sightings or your next cruise at half price." So we departed in Bellingham Bay on this gorgeous sunny day, and we were graced with constant views of small islands and rocks. A short distance from our launch, we went past Eliza Island and noticed seals in and out the water. However, they were shy and did not want to be photographed. Eliza Island is a private island with no potable water or electricity. It has a very small population of ten, mostly summer residents, with just three that live there year-round.
We continued west as the captain knew exactly where to find our treasure for the day. In the meantime, we enjoyed some tasty lasagna for lunch and the local microbrews on tap. After lunch, I walked around and saw great views of Mt. Baker, which always seemed to be somewhere on the horizon.
The naturalist on the boat was a wealth of information about sea life and the islands around us. The whales that everyone wants to see are the amazing Orcas, also known as Killer Whales, although unless you are a salmon (their main food source), you really have nothing to worry about. Even though Orcas often migrate to follow the salmon, our waters are home to a pod known as the resident pod, and they stay year-round. Orcas were put on the Endangered list in 2005, and there are many theories about what is causing their stress. Commercial whale watching is regulated to ensure that the boats stay a long distance from the whales. If a whale swims up to the boat, the rule is that you sit there until the whale decides to swim away. That would be a wonderful experience, but unfortunately, it is very rare. And, whale watching boats are just a small part of the whales' distress. Most experts believe that the food source is just not as bountiful as in the past, so the whales are not reproducing as often. Since whales use echolocation to find their food – the noise from all the container ships, ferries, and pleasure boats is certainly a cause for concern.
The suspense was growing as the captain sited some whales in the distance and headed to his secret location near the Strait of San Juan de Fuca. Sure enough, we hit paydirt. We saw many Minke Whales that entertained us by swimming alongside our boat. Minke whales are often difficult to see, as they don't usually have a lot of surface activity. They are the smallest of the baleen whale family, a family of whales that have baleen plates instead of teeth and sieve plankton and tiny fish through them to eat.
After this fun and successful whale watch outing, we were hungry again and wanted to keep the seafood focus, so we took the short drive to Keenan's at the Pier. We sat outside on their lovely porch and watched people on their Stand Up Paddleboards and folks walking on the trail next to Bellingham Bay.
Crab Cakes, Ahi Poke, Oysters on the Half Shell, Wild Salmon, Sea Scallops, Streamed Mussels, and much more! What a difficult choice! I went with the famous Penn Cove Mussels, served in coconut milk, garlic and ginger. What made this special was chorizo which enhanced the broth. The chorizo was delicious and added an excellent spicy and smokey flavor.
We returned to the Hotel Bellwether to enjoy the sunset and our last night in Bellingham amid many thoughts of a quick return visit. After all, it is only a short drive from Seattle.
Editorial disclosure: lodging, beverages, and food were generously provided.
Categories: