We love a good traditional street taco, but it's also fun to play around with different ingredients and methods of composing (that is, turn a taco into a casserole!) to create something new and inspiring. With Cinco de Mayo approaching, we put together some fun twists on the classic taco. From zesty Bang Bang Fish Stick Tacos and spicy Korean Taco Boats with Asian Slaw to Buffalo Chicken Taquitos and Slow Cooker Cholula Shredded Beef Tacos. We even threw in a hearty Taco Casserole for good measure.
Bang Bang Fish Tacos
Contributed to Foodista by Taste and See
Pull out the freezer fish sticks; you're going to love these tacos! Cook the fish sticks until nicely crisp then pop them on top of a bed of sweet and tangy slaw. Drizzle with a spicy Sriracha mayo and boom! Dinner.
Spicy Chicken with Salsa Verde
Contributed to Foodista by Afternoon D Lite
Bring a little Mexican fiesta to your table with these spicy chicken tacos! These chicken tacos are easy to prep and are ready on the table in no time. While the seasoned chicken is grilling (or pan sear it), whip up a flavorful salsa in the blender.
Korean Mini Taco Boats with Spicy Asian Slaw
Contributed to Foodista by Taste and See
Sauteed onions, fresh ginger, garlic, and sesame oil flavor these ground beef and pork Korean tacos. Top the tacos with a bright purple cabbage and carrot slaw and a sweet and spicy gochujang sauce.
Sweet Potato Pinto Bean Breakfast Taco
Contributed to Foodista by Culinary Envy
Start your morning with these tasty sweet potato and bean tacos. They're packed with protein and other good-for-you ingredients like spinach, avocado, fresh cilantro and radishes.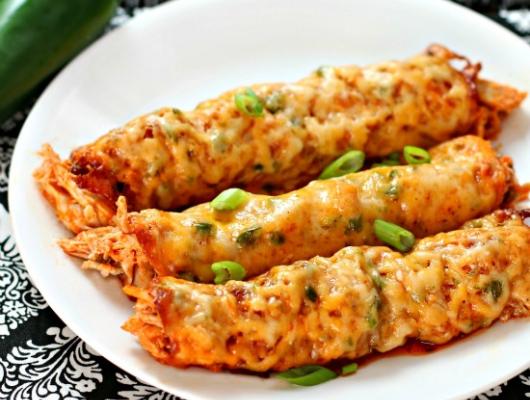 Buffalo Chicken Taquitos with Baked Cheese Shells
Contributed to Foodista by Culinary Envy
These three-cheese keto-friendly taquitos are baked in cheese shells instead of tortillas (not doing keto? Use your favorite corn tortilla instead). Use leftover rotisserie chicken to fill them then smother with Frank's Red Hot Sauce (enchilada sauce will also do).
Buffalo Cauliflower Tacos
Contributed to Foodista by Simmer + Sauce
These tangy hot tacos are just what you want if you're looking for both comfort and a vegetarian option!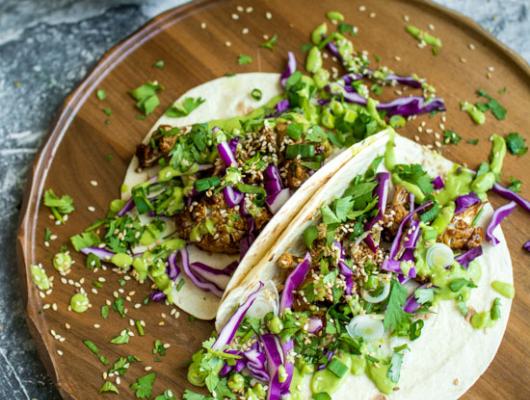 Vegan Teriyaki Cauliflower Tacos
Contributed to Foodista by Lauren Caris Cooks
Avoiding meat altogether? Then these tasty vegan cauliflower tacos are sure to please.
Slow Cooker Cholula Shredded Beef Tacos
Contributed to Foodista by Tasty Ever After
Busy homeschooling the kids? These slow cooker beef tacos are a home run hit! Toss the simple ingredients in the slow cooker in the morning, and dinner is ready without you breaking a sweat. In a hurry? You can use an Instant Pot for an even faster dinner.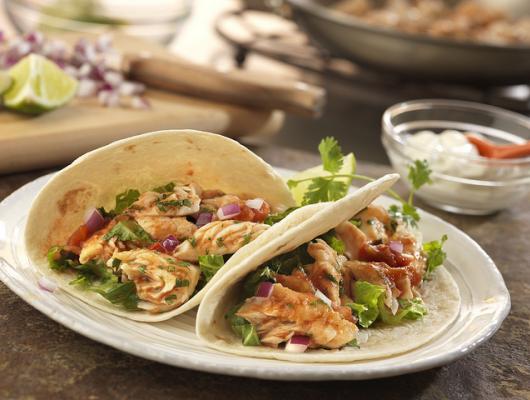 Cilantro Lime Fish Tacos
Courtesy of Campbell's Kitchen
Use fresh or frozen fish for this easy taco recipe. A few more simple ingredients, like cilantro, lime, cabbage (or lettuce), and red onion and dinner is ready in 20 minutes or less.
Zesty Taco Casserole
Contributed to Foodista by Culinary Envy
This spicy, cheesy, one-dish casserole is so not Mexican, but who cares! It's delicious, comforting, and the whole family will love it. Plus, the leftovers are great!