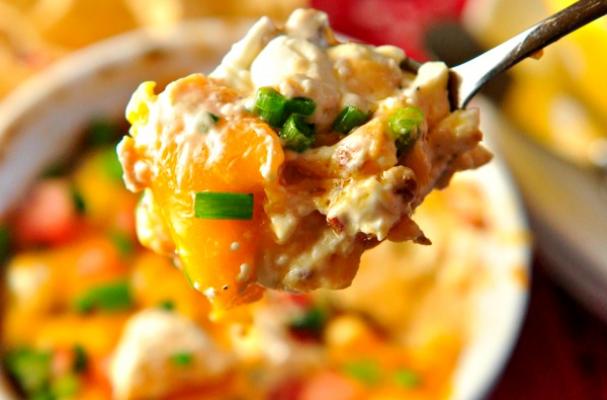 The Big Game is around the corner, and many of us are planning our party food. I made the mistake one year of recommending a shaved raw asparagus salad as part of the culinary repertoire for a Super Bowl party and my team has never let me live it down. Indeed, Game Day is a time to throw New Year's diet resolutions out the window and let your hair down (that asparagus salad is really good though).
Below are 10 winning dip recipes from our talented Foodista community members. They range from loaded with cheese, bacon and the like to more lighter veggie based dips. I recommend doing a combination of light and heavy to keep things in balance, but then again I'm the one who promotes raw salads for sporting events (wink).
Queso Fundido With Chorizo
Contributed to Foodista by Taste and See
A delicious hot dip of cheddar cheese, chorizo, beer, onion, garlic, and jalapeños. Serve with chips and watch it disappear in a flash!
6 ounces diced dried chorizo
8 ounces shredded Monterey jack cheese
8 ounces sharp white cheddar cheese
¼ of a large onion chopped finely
2 cloves garlic minced
2 jalapeños finely diced (seeds and membranes removed)
1 tablespoon flour
¾ cup beer

AIP Cauliflower Dip
Contributed to Foodista by Healing Autoimmune
You can still enjoy a deliciously decadent snack while healing from an autoimmune disease. Try this tasty AIP dip recipe from Healing Autoimmune.
1/2 head of cauliflower (300 g), broken into florets
3 Tablespoons of olive oil (45 ml), divided
3 cloves of garlic (9 g), unpeeled
2 Tablespoons of lemon juice (30 ml)
Sea salt, to taste
Radishes and cucumber sticks, to serve

Southwestern-Style Hot Crab Dip
Oh, nothing beats a good hot crab dip! This Southwestern version has a kick of spicy heat. Keep it mild or go full tilt!
1/2 cup milk
1 cup salsa
3 8-ounce packages cream cheese, cubed
16 ounces crabmeat
1 cup green onions, thinly sliced
1 4-ounce can chopped green chilies
Assorted crackers

Beetroot Dip
Contributed to Foodista by The Little Blog of Vegan
The brilliant pop of color alone is enough to make you want to dip into this vegan and gluten-free dip.
6 beetroots (peeled)
2 garlic cloves
1 lemon (juice)
1/2 red chilli (de-seeded)
1 &1/2 tablespoon of extra virgin olive oil
1 tablespoon of water
Pinch of salt & pepper
2 tablespoons of tahini

Spicy Chorizo Dip
Contributed to Foodista by Home Skillet Cooking Blog
Meaty, cheesy, spicy, delicious. What more needs to be said?
1 10-ounce package pork chorizo
2 tablespoons unsalted butter
½ leek, chopped
1 scallion, chopped
1 tablespoon minced jalapeno
2 garlic cloves, minced
1/2 cup chopped yellow bell pepper
1 sprig fresh thyme, leaves removed
1 sprig fresh oregano, leaves chopped
1-ounce cream cheese
1 tablespoon Mexican crema, optional

Crunchy Lemon-Dill Vegetable Dip
Also by Home Skillet Cooking Blog
You can only have so many heavy dips (or can you?). This lighter recipe is the perfect counterbalance and best served with a bevy of veg.
1 ½ cups sour cream
¼ cup mayonnaise
¼ teaspoon salt
¼ teaspoon pepper
2 tablespoons chopped dill
2 scallions, minced
1/3 cup finely chopped red bell pepper
2 carrots, minced
½ teaspoon lemon zest
1 tablespoon lemon juice

Hot Cheesy Bacon Party Dip
Contributed to Foodista by Loaves and Dishes
You had us at bacon (and cheese).
8 slices of bacon - cooked crispy and crumbled
1 8oz package of cream cheese
1c mayo
1 c cheddar cheese (sharp is best, mild is fine too)
2 Roma tomatoes – seeds and inner goop removed – only use the outside meat
1 small bundle of green onions – finely chopped
2 Tbs minced garlic

Greek Eggplant Dip (Melitzanosalata)
Contributed to Foodista by TheoCooks.com
If you love babaganoush, you'll love this even smokier version.
2 medium-sized aubergines
90ml extra virgin olive oil (good quality)
1 small clove garlic crushed
Lots of salt and pepper
1/2 tsp smoked paprika
1 tbl toasted breadcrumbs*
Juice 1/4 lemon
*toast some bread till dark (not burnt), let it cool, then break up what you need (this soaks up any excess liquid and adds to the smokiness).

Frank's® Redhot® Buffalo Chicken Dip
Contributed to Foodista by Swanson's® Chicken
Everything you love about Buffalo wings is right here in this dip - chicken, blue cheese, and hot sauce - but without the finger licking.
1 package (8 oz.) cream cheese, softened
2 ounces cans (9.75 each) Swanson® Premium Chunk Chicken Breast, drained
1/2 cup Frank's ® RedHot ® Sauce
1/2 cup blue cheese salad dressing
1/2 cup crumbled blue cheese
Assorted fresh vegetables and/or crackers

Warm Mushroom Fontina Vegetable Dip
Creamy, cheesy, mushroomy and gluten-free!
1 small bunch kale
2 Tbsp minced onions
1 clove minced garlic
1 Tbsp butter
1 1/2 tsp gluten free flour (I used 1 to 1 from Bob's Red Mill)
1/2 cup milk
24 mushroom stems, chopped
1/4 cup Italian fontina cheese, cubed
1/2 block of cream cheese (I used fat-free)
salt/pepper to taste