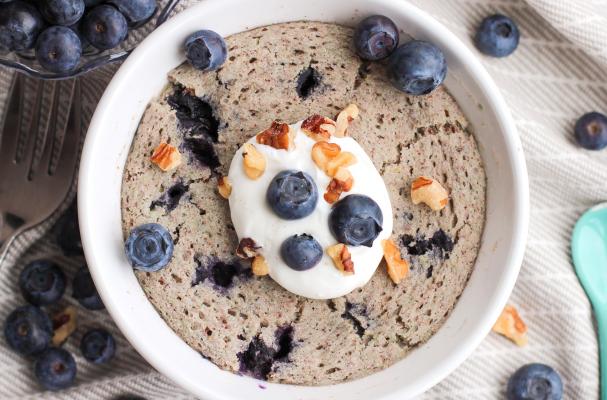 For me, breakfast baking is often left for the weekends. The thought of preheating the oven, measuring and mixing the ingredients and then waiting for the item(s) to bake is nothing short of a daunting task. Realistically, most days I am content with a nutrition bar and a yogurt because I am scrambling to to get two kids dressed and fed before running out the door. These instant gluten-free blueberry muffins from Dessert with Benefits have been a life saver. This recipe is free of refined sugar, gluten and oil so you can fell good about feeding this to yourself and our family. These individual servings can be mixed and cooked in just under 5 minutes. Hopefully these gluten-free muffins change your world as they have mine.
Instant Gluten-Free Blueberry Muffin
Recipe from Desserts with Benefits
Ingredients:
1/2 cup Frozen Unsweetened Blueberries, thawed for 10 min.
1/3 cup Unsweetened Vanilla Almond Milk
1/4 cup Unsweetened Applesauce
1/2 tsp Vanilla Extract
51g (6 tbsp) Sweet White Sorghum Flour
1 tbsp Ground Flaxseed
1 tsp Double Acting Baking Powder
4 packets Natural Sweetener (stevia, Truvia, etc.)
1/8 tsp Salt
For full recipe instructions, click here.
Image Sources: