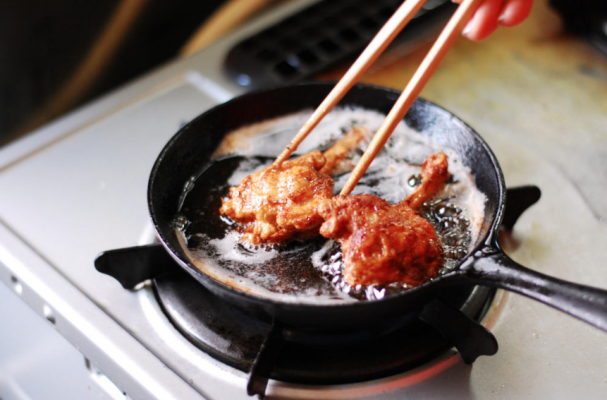 Fried chicken is synonymous with comfort. Whether you are chowing down on traditional Southern buttermilk fried chicken and waffles or discovering Korean fried chicken wings for the first time, one thing is for certain - it is going to be delicious. Karaage is Japan's version of fried chicken and it will rock your world. Boneless skinless chicken thighs and marinated in garlic, ginger, soy sauce and other seasonings before they are coated in potato starch and deep fried. The starch is lighter than classic all purpose flour so it creates an airy crust. This dish can be served as an appetizer or main course, depending on the occasion.
Karaage
Ingredients:
For the chicken:
2 pounds boneless skinless chicken thighs
2 1/2 cups potato starch
For the marinade:
2-inch piece fresh ginger, peeled and finely minced
2 garlic cloves, finely minced
3 scallions, white and green parts, thinly sliced
2 tablespoons low sodium soy sauce or tamari
1 tablespoon toasted sesame oil
1 tablespoon sake
1/4 teaspoon fine sea salt
peanut oil for frying
Directions:
Step 1: Cut the chicken thighs into 3 to 4 large pieces. Set aside.
Step 2: In a large zip top bag, add the ginger, garlic, scallions, soy sauce, toasted sesame oil, sake, and salt. Stir the ingredients until well combined. Add the chicken thighs to the bag and allow to marinate for 12 to 24 hours.
Step 3: Remove the chicken from the fridge and allow it to come to room temperature. Meanwhile, in a large pot, heat the oil to 375 degrees Fahrenheit.
Step 4: Remove the chicken from the bag and scrape away any pieces of ginger, garlic or scallion. Dredge the chicken in the potato starch and place on a rack fitted with parchment paper underneath. Continue coating the chicken until each piece is covered. Coat the chicken a second time in potato starch, dusting off any extra.
Step 5: Gently place 3 to 4 pieces of chicken into the pan, taking care not to overcrowd the pan. Fry the chicken until golden brown and crispy, about 5 to 8 minutes depending on the size of meat. Turn the chicken using tongs or chopsticks. Drain the chicken on a plate lined with a paper towel and serve hot.
*Note: If you are not eating the chicken right away or making a large batch, place the cooked pieces on a baking tray and into a warm oven (around 200 degrees Fahrenheit).
Image Sources: