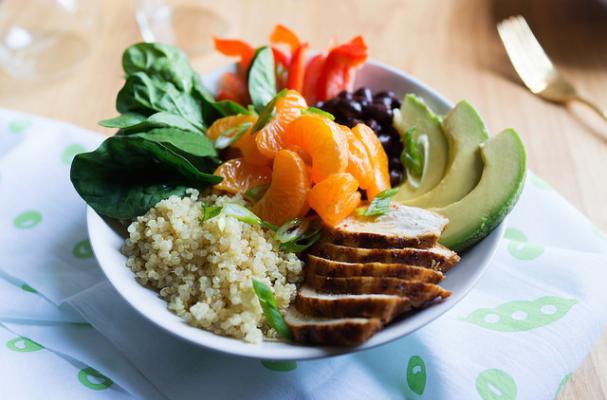 Quinoa (pronounced keen-wa) is known as one of the World's healthiest foods, but it's also versatile (eat it cold or hot), easy to make, and super delicious! We love this easy recipe for lunch or dinner and served either chilled or hot. These tasty chicken bowls are first filled with quinoa, then topped with Wonderful Halo mandarin oranges (you know those fun little seedless, easy-to-peel ones?), baby spinach, black beans, sliced red bell pepper, and avocado then dressed with a smoky sweet lime vinaigrette. If you're feeding kids, have them build their own bowl. It's a fun way to get kids in the kitchen and they'll enjoy making their own meal! Want to take it for lunch? Layer the ingredients - quinoa first - in a Mason jar with the vinaigrette on the side.
Mandarin Orange and Quinoa Chicken Bowls
Courtesy of Wonderful Halos
Serves 4
For the Bowls:
4 "Wonderful Halos" mandarins, peeled and segmented
1 cup quinoa
¾ teaspoon kosher salt
½ teaspoon chili powder
¾ teaspoon ground cumin
2 boneless, skinless chicken breasts
2 cups baby spinach
1 15-ounce can black beans, drained
1 small red bell pepper, sliced
1 avocado, pitted and sliced
For the Chipotle Lime Vinaigrette:
¼ cup lime juice
1 garlic clove, sliced in half
2 tablespoons honey
3 teaspoons adobo sauce, from canned chipotle in adobo
1 teaspoon kosher salt
⅓ cup olive oil
Garnish: 1 green onion, diced
Step 1. Cook quinoa according to package directions and set aside to cool.
Step 2. Heat a grill or grill pan over medium-high heat. Mix together the salt, chili powder and cumin and rub on chicken. Grill chicken on both sides until cooked through; set aside to cool, then slice.
Step 3. Make the chipotle lime vinaigrette: Whisk together the lime juice, garlic, honey, adobo sauce, salt and olive oil. Then discard the halved garlic cloves.
Step 4. Peel Wonderful Halos mandarins and separate segments.
Step 5. Spoon the quinoa into 4 bowls. Top each bowl with some spinach, black beans, bell pepper, avocado, Wonderful Halos mandarin segments and sliced chicken. Drizzle each bowl with vinaigrette and sprinkle with green onions to serve.
Editorial disclosure: Foodista received no compensation for this post.