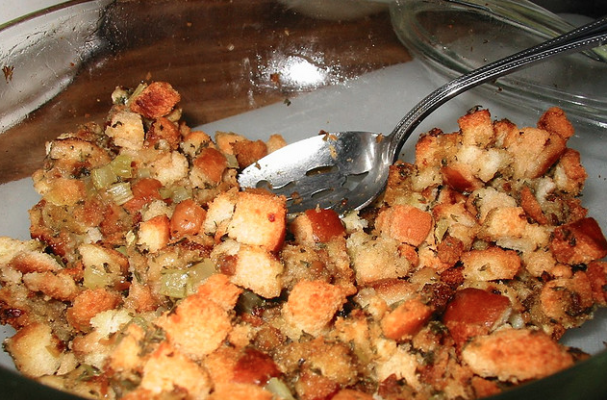 Stuffing is one of my very favorite things about Thanksgiving. When made right, this savory bread pudding is crisp and golden brown on the outside and tender and moist on the inside. Many people love the earthy, aromatic flavors in stuffing but can't stand the mushy texture that often accompanies the finished result. These tips will give you the wisdom to make perfect stuffing every Thanksgiving.
Tip 1: Start with dry bread. Whether you use boxed stuffing mix or fresh bread that you have cubed yourself and left out to dry, the bread must be dried out so that it can fully absorb the stock. If the bread is too fresh, it won't be able to soak up all those wonderful Thanksgiving flavors.
Tip 2: Use eggs in your stuffing. Eggs help stabilize the liquid and create the custard-like texture that we all know and love in bread pudding.
Tip 3: Skip the bird. Counter to conventional wisdom, stuffing is better when it's baked outside the turkey. By cooking the stuffing in a casserole dish, you create more surface area which means more crispy brown topping.
Tip 4: Dot the top of the stuffing with butter or drizzle with olive oil before baking. The extra fat helps with browning without drying out the stuffing.
Cornbread and Sausage Stuffing
Ingredients:
8 cups cornbread cubes
1 pound Andouille sausage or Polish sausage, cut into cubes
10 tablespoons unsalted butter, divided, plus more for coating baking dish
4 celery stalks, chopped
2 red bell peppers, chopped
8 scallions, white and pale-green parts only, thinly sliced
4 garlic cloves, finely minced
2 Golden Delicious apples, peeled and chopped
½ cup dry white wine
2 tablespoons Italian flat-leaf parsley, chopped
1 tablespoon chopped fresh thyme
1 teaspoon dried sage leaves
1/4 teaspoon cayenne pepper
2 cups low-sodium chicken broth, divided
Kosher salt and freshly ground black pepper
3 large eggs, beaten
Click here to view full recipe and instructions.
Image Sources: