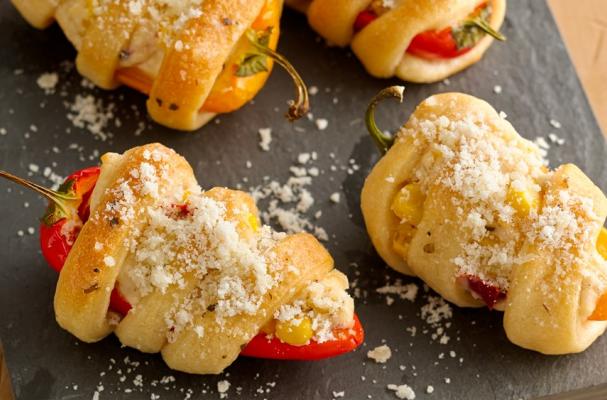 Creamy corn filled sweet peppers are an easy appetizer to whet the appetite before your big Thanksgiving meal. Petite sweet bell peppers are hollowed out and filled with a cheesy creamed corn mixture. Before heading to the oven, the peppers are wrapped in crescent roll dough and topped with an extra sprinkling of parmesan cheese. These stuffed peppers are neat little bundles of pure goodness that will help fight off hunger until the turkey is ready for carving.
Creamy Corn Filled Sweet Peppers
Courtesy of Pillsbury
Ingredients:
1 bag (11 oz) Green Giant™ Steamers™ frozen honey roasted sweet corn
1 package (8 oz) cream cheese, softened
1 cup grated Parmesan cheese
1 teaspoon Watkins™ Italian Seasoning
11 mini sweet peppers (3 to 4 inches long), cut in half lengthwise leaving stem attached, seeded
1 can Pillsbury™ Crescent Recipe Creations™ refrigerated seamless dough sheet or 1 can Pillsbury™ refrigerated crescent dinner rolls (8 rolls)
3 tablespoons butter, melted
Directions:
Step 1: Heat oven to 375°F. Line large cookie sheet with Reynolds® Parchment Paper. Microwave corn as directed on bag. Cut open bag; cool 10 minutes.
Step 2: In large bowl, beat cream cheese with electric mixer on medium speed until smooth. Add corn, 1/2 cup of the Parmesan cheese and 1/2 teaspoon of the Italian seasoning; mix well. Place cream cheese mixture in large resealable food-storage plastic bag. Cut off 1/2 inch from corner of bag. Squeeze bag to pipe filling into each pepper half.
Step 3: Unroll dough. (If using crescent roll dough, firmly press perforations to seal.) Press to form 11x9-inch rectangle. With pizza cutter or knife, cut dough into 22 (9x1/2-inch) strips.
Step 4: Wrap 1 dough strip around each pepper, from stem to tip. Place filling-side up on cookie sheet, tucking in ends of dough under pepper.
Step 5: Bake 12 to 18 minutes or until golden brown. 6 Meanwhile, in small bowl, mix melted butter and remaining 1/2 teaspoon Italian seasoning. Remove peppers from oven; brush with butter mixture. Sprinkle remaining 1/2 cup Parmesan cheese evenly over peppers. Serve warm.
Image Sources: