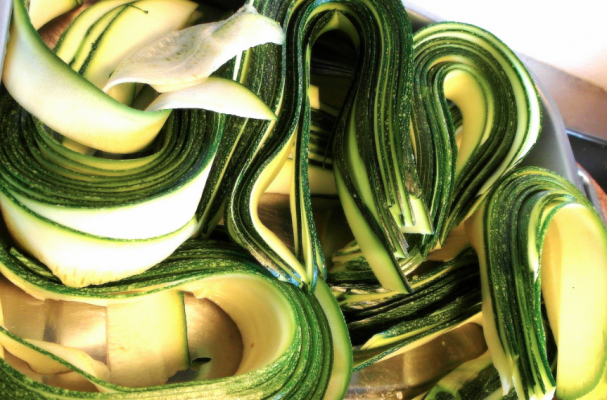 With the holidays just around the corner, we need to count calories where we can so we can indulge in those comforting meals. This cheesy zucchini noodle casserole is a low carb meal that even the kids will get into. Instead of using pasta, zucchini is shredded into strands using a spiralizer. Much like a apple slicer, this kitchen tool breaks down a whole zucchini into a pile of spaghetti shaped strands. If you do not have a spiralizer (or refuse to purchase one), you can also shred the zucchini using the large side of a box grater or the shredding attachment on a food processor. The texture won't be quite the same but it will still be delicious.
Zucchini contains a lot of water so before you make this dish, you will need to draw out the excess moisture. There are several methods to do this but my preferred technique is to lightly salt the strands in a colander in the sink and allow them to drain for 20 minutes. By doing this, you will ensure that your casserole does not turn into a watery mess. Keeping this step in mind, you'll have a perfect zucchini noodle casserole every time.
4 large zucchini
1 1/2 teaspoon kosher salt
1 tablespoon olive oil
1 large red bell pepper, seeded and diced
1 small yellow onion, finely diced
3 large cloves garlic, finely minced
1 can no salt added corn, drained and rinsed
1/4 cup chopped fresh cilantro
3 large eggs
1 tablespoon whole milk
2 tablespoons melted butter (1/4 of a stick)
1/2 cup grated Parmesan cheese
1 1/2 cups shredded Mexican cheese blend, divided
freshly ground black pepper
Preheat oven to 375°.
Cut off the ends of the zucchini and then cut each in half. Using a vegetable spiralizer (or grater or food processor), make zucchini noodles, catching them with a large pan located at the end of the disc. Toss the strands with the kosher salt and let them sit in a colander in the sink or large pan or bowl to drain any excess liquid.
Meanwhile, heat olive oil in a large skillet over medium-high heat. Add the diced pepper and onion. Cook them for about 5 minutes or until the onions and peppers have softened. Next add the garlic and the corn. Cook another 2 to 3 minutes until garlic is fragrant. Remove the vegetables from the heat and add the chopped cilantro. Place the vegetables into a large bowl and set aside.
Press on the zucchini with a large wooden spoon (or your hands) to push out moisture from the zucchini. Once you have pressed as much liquid out as you can, take a few paper towels and press on the zucchini to remove even more of the moisture. Add the zucchini noodles to the bowl with the vegetables and toss until all the ingredients are well incorporated. In a separate bowl, whisk the eggs, whole milk, and melted butter. Stir in the Parmesan and 1 cup of the shredded Mexican cheese. Pour over the vegetable mixture and combine thoroughly. Add zucchini mixture to a prepared casserole dish, spreading it out evenly. Then add the remaining 1/2 cup of cheese on top. Sprinkle with freshly ground black pepper.
Cover the casserole dish loosely with foil and bake for 20 minutes. Remove foil and bake for an additional 10 to 15 minutes until the cheese is golden brown and the casserole appears firm (depending on your oven, you may need to use the broiler for this). Remove from the oven and let sit for 5 to 10 minutes prior to serving.
Image Sources: