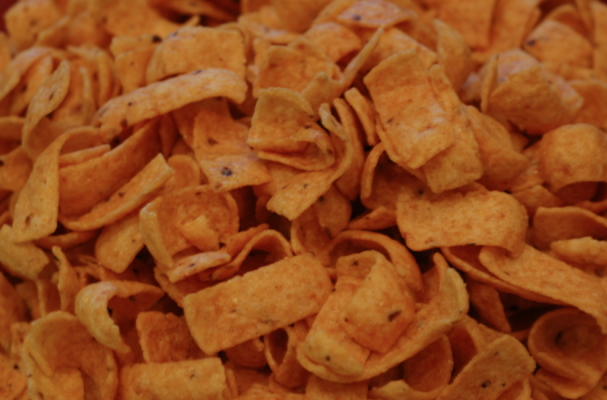 Since the popularization of the Frito pie, it's been socially acceptable to add the curly corn chips to a plethora of other dishes. We already know that they are delicious with chili and cheese whether the trio is served on its own or tucked between a bun or grilled cheese. They are also a tasty alternative to tortilla strips in soups and salads. If you're into the sweet and salty combination - try dipping your Fritos into chocolate. The recipes below are just three ways to eat Fritos for dinner but as you can probably tell, there are a lot more!
Frito Pie Burger
Recipe from She Knows
Go big or go home. These Frito pie burgers are not for the faint of heart. An 100% beef patty is loaded with chili, cheddar cheese, onions and of course Fritos. Since the chips are served on top of the burger, there is no need for them on the side.
Frito Taco Salad
Recipe from Tastes of Lizzy T
When Fritos sneak their way into a salad, that's healthy right? This vegetarian Frito taco salad pairs plain Jane iceburg lettuce with pinto beans, tomatoes, cheese, and a healthy drizzle of Catalina dressing. Avocado and corn would also be delicious additions.
Frito Crusted Salmon Cakes
Recipe from Averie Cooks
Instead of breadcrumbs or cracker crumbs, crushed Fritos form the crispy crust to these salmon cakes. The flaked salmon is combined with a corn, black beans, and a variety of warm spices including cumin and chili pepper. The cooked cakes are served with a creamy lemon chili sauce.
Image Sources: