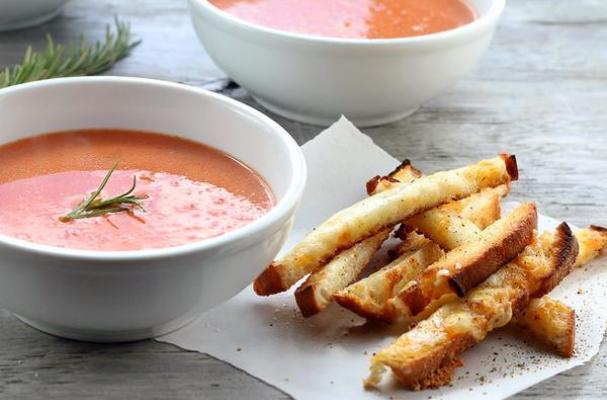 We love to dip our grilled cheese sandwiches into a big bowl of hot tomato soup. We really love grilled cheese sticks that are much easier to dip, and a tomato soup made with stock, fresh rosemary and whole tomatoes. Try this easy and light option (270 calories per serving!) from Gouda Monster.
Rosemary Tomato Soup with Grilled Cheese "Fries"
Ingredients:
1 teaspoon olive oil
1/2 yellow onion, diced
1 cup grated carrots
2 cloves garlic, minced
1 sprig fresh rosemary
1/8 teaspoon salt
5 cups vegetable stock
1 31.5 ounce can whole peeled tomatoes (I used San Marzano)
1 bay leaf
1 teaspoon black pepper
1 teaspoon dried oregano
Salt, to taste (use more or less depending on the sodium content of your stock)
1/4 cup heavy whipping cream
5 ounces shredded cheese (you can use a blend)
6 slices of good bread
2 tablespoons butter, melted
For full recipe instructions, click here.
Image Sources:
Categories: