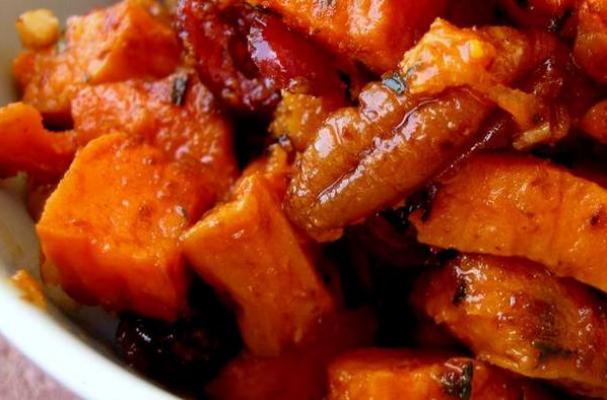 This marinated sweet potato salad is an excellent sub-in for the marshmallowy side dish typically served at Thanksgiving. We like the combination of chipotle pepper, balsamic vinegar, dried cranberry and pecan -- all adding smoky, nutty and sweet tones to roasted sweet potato.
Roasted Sweet Potato Salad
Submitted by Kara Bagley
Ingredients:
3 pounds sweet potatoes
1/4 cup extra virgin olive oil
1 inch chipotle pepper adobo sauce, pureed
1 teaspoon balsamic vinegar
2 teaspoons salt
1/4 teaspoon pepper
cup dried cranberries
1/2 cup pecans, chopped
2 tablespoons chopped fresh chives
Preheat oven to 400 degrees (convection works best).
Peel and cut potatoes into 1" pieces. Toss to coat with 2 tablespoon of olive oil. Arrange in a single layer on two baking sheets; roast for 35 minutes.
Mix 2 tablespoons oil, pepper puree, vinegar, salt and pepper to make a dressing.
Combine cranberries, pecans, chives and cooked sweet potatoes in a medium bowl, drizzle with dressing, cover. Refrigerate until chilled.
Image Sources: