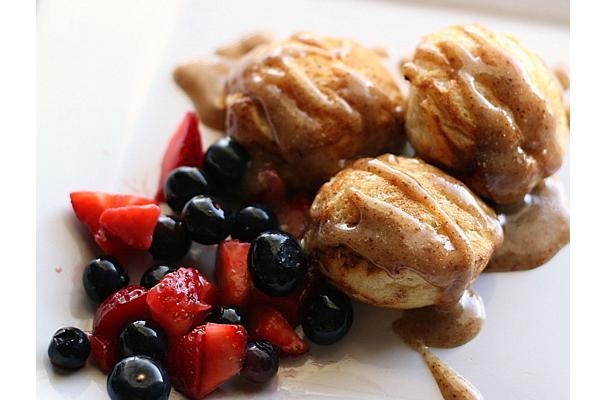 Ebelskivers (prounounced ay-blur-skew-er) are traditional Dutch popover-like pancake balls cooked stovetop in a special pan (see below). The batter typically includes flour, butter, milk (or cream), eggs, sugar and salt, and were traditionally cooked with apples or applesauce in the center. They're served with berry jams (raspberry, lingonberry, blackberry, strawberry) and powered sugar. We love this strawberry buttermilk ebelskiver recipe from Perry's Plate with almond-honey glaze. A tasty way to start any morning!
Strawberry-Buttermilk Ebelskivers With Almond-Honey Glaze
Submitted to Foodista by Perry's Plate
For the batter:
1 cup whole wheat pastry flour or all-purpose flour
1 1/2 teaspoons sugar
1/2 teaspoon baking powder
1/4 teaspoon salt
2 large eggs, separated
1 1/4 cups buttermilk
2 tablespoons butter, melted and slightly cooled+ a extra stick, partially unwrapped for coating the pan
1/2 teaspoon vanilla extract (optional)
For the filling:
1 pint of strawberries, coarsely chopped
1/2 teaspoon sugar
For the glaze:
1 cup almond butter (or peanut butter)
3 tablespoons honey
1/4 cup hot water (tap is fine)
Combine the strawberries and 1/2 tsp sugar in a small bowl. Set aside until ready to use. In a separate small bowl combine almond butter, honey, and warm water. Whisk until smooth, adding more water to thin it out if you like, and set aside.
In a large bowl, whisk together flour, sugar, baking powder, and salt. In a separate, smaller bowl, whisk together egg yolks, then add the buttermilk, melted butter, and vanilla (if using). Add the wet mixture to the dry and stir until well-blended. The batter will be rather lumpy.
In a clean bowl, beat the egg whites with an electric mixer on high speed until stiff, but not dry peaks form. Using a spatula, carefully fold about 1/3 of the whites into the batter to lighten it, then fold the rest in until no white streaks remain. Use the batter right away.
Heat the ebelskiver pan over medium heat and rub some butter in each cavity. When the butter begins to bubble, quickly put about 1 T of batter in each spot, followed by 1 tsp of filling, then another 1 T or so of batter. When the sides begin to bubble and look a bit dry (like a pancake ready to flip), turn each ebelskiver over by manuvering it down and around with a pair of wooden skewers. (After a few flips, you'll be a pro.) Continue to cook until the other sides are golden brown. Transfer to a large plate or platter and repeat with remaining batter and filling.
Serve with a drizzle of almond-honey glaze and some fresh fruit, if desired.