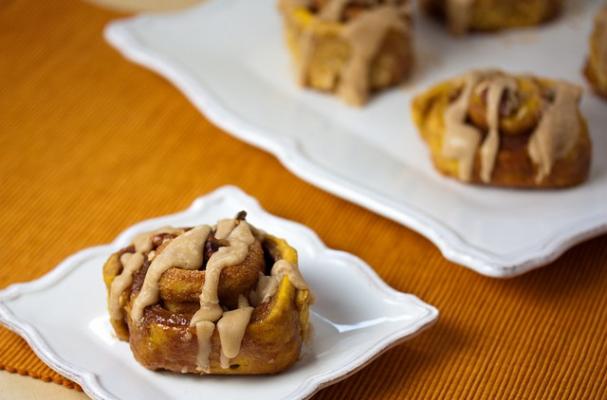 Pumpkin cinnamon rolls from The Bright-Eyed Baker are a delicious labor of love. There is no beating around the bush, homemade cinnamon rolls take time and patience but the results do not begin to compare to store bought versions. These pumpkin flavored cinnamon rolls go above and beyond the classic. The pumpkin dough is heavily spiced with allspice, ginger, nutmeg and cloves. The cinnamon cream cheese drizzle is the perfect finishing touch to an already indulgent breakfast.
Pumpkin Cinnamon Rolls
Spiced Pumpkin Dough:
6 3/8 ounces (3/4 cup) milk
1 3/4 ounces (1/4 cup) granulated sugar, divided
2 teaspoons active dry yeast
2 ounces (1/4 cup) unsalted butter
2 egg yolks
2 teaspoons cinnamon
1/2 teaspoon ground all spice
1/2 teaspoon ground ginger
1/2 teaspoon ground cloves
3/8 teaspoon ground nutmeg
12 ounces (1 1/2 cups) canned pumpkin (NOT pumpkin pie filling)
6 3/8 ounces (1 1/2 cups, spoon and level) whole wheat flour
1 lb 2 ounces (4 1/4 cups, spoon and level) bread flour, divided
1 1/2 teaspoons salt
Spiced Cinnamon Brown Sugar Filling:
5 ounces (2/3 cup, packed) brown sugar
1 tablespoon cinnamon
pinch of ground all spice
pinch of ground ginger
pinch of ground cloves
pinch of ground nutmeg
1 1/2 ounces (3 tablespoons) unsalted butter, softened
Glaze:
3 tablespoons milk
1 1/2 ounces (3 tablespoons) unsalted butter, melted
Cinnamon Cream Cheese Drizzle:
9 ounces cream cheese
3 7/8 ounces (1/2 cup plus 1 tablespoon) granulated sugar
2 1/4 teaspoons cinnamon
1 1/2 teaspoons vanilla extract
pinch of salt
For full recipe instructions, click here.
Image Sources: