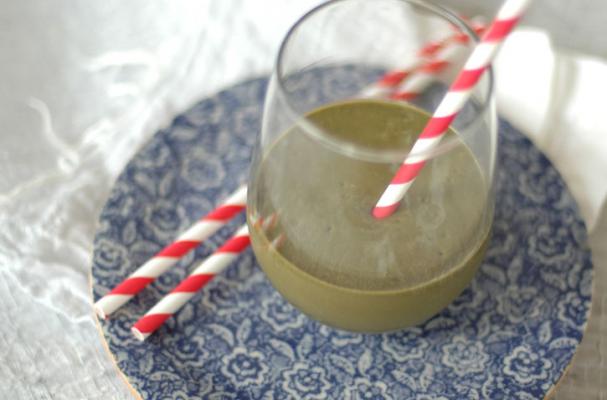 My baby son is a strong-willed two-and-a-half-year old. And at times, it feels like we are in a steady state of war when it comes to meal times. I'd like him to eat a few more types of foods, and he's pretty content to eat the same thing pretty much everyday (and it's always upside if pasta is involved). But this week, I made an acai smoothie for myself that he loved. Perhaps it was the festive straw that put this smoothie on his radar, or perhaps it was his keen attempt to mimic the adult in the room, but whatever the reason, I was delighted. This smoothie is packed with antioxidant rich acai berries and sweet strawberries along with just a hint of banana and a sliver of avocado for creaminess. I also added a handful of tender baby spinach (for iron) and a few sunflower sprouts which add a steady year-round source of vitamins and a high concentration of youth supporting enzymes.
Acai Berry and Spinach Smoothie
Don't be intimidated by the addition of the tender baby spinach in this smoothie. It simply fades into the background, providing only a nutrient-rich boost (but no spinach taste).
Serving Size: 1 (330 calories per serving, with 1/2 tablespoon honey)
Ingredients
1 acai smoothie packet, frozen (I used this one)

1 cup almond milk, rice milk or hemp milk (I used a homemade almond milk)

1/2 cup strawberries*, frozen

1/2 banana, frozen

1 handful baby spinach*

1/4 cup sunflower sprouts*

1/4 avocado, peeled

1/2 – 1 tablespoon good honey, optional

1/4 cup water

(* Buy organic, if possible. Learn more here.)
Better-for-you ingredients
Learn more about the better-for-you ingredients in this recipe:

Acai berry – The acai berry is native to rainforest jungles of South America. It is embraced by health beauties for its rich nutrient and antioxidant profile, which are believed to support your body's fight against free-radicals and premature aging. The acai berry is also a good source of omega 3, 6 and 9 fatty acids, which help to support healthy hair, skin and nails.


Directions
Place ingredients into a Blendtec, or good powerful blender until smooth and creamy. Thin with water or thicken with ice if desired. Enjoy!
Categories: