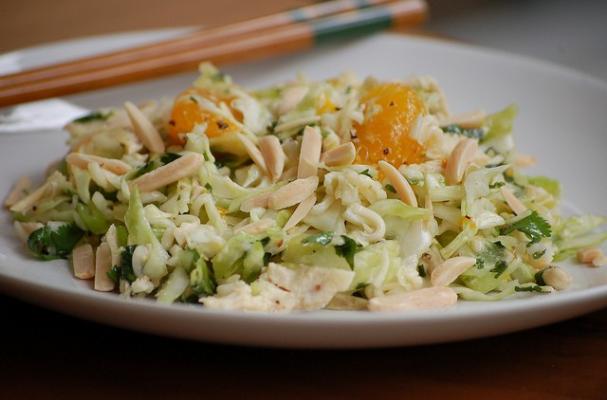 This Asian chopped salad with fried wontons is bursting with flavor. The most work that is involved is chopping the vegetables. Homemade fried wontons are stuffed with crunchy veggies including carrots and cabbage. They are served alongside crisp salad greens, red pepper, and shredded daikon radish tossed in a gingery dressing. If you don't want to trouble yourself with the wontons, this salad would also be delicious with grilled tofu.
Asian Chopped Salad with Fried Wontons
Salad:
Dressing:
Directions:
For filling: In a sauce pan,
heat
sesame oil.
Cabbage should be transparent and
carrots
tender.
Add soy sauce and cook for 5 more minutes.
Take 20 wonton wrappers and place 1 to 1 1/2 tsp of filling.
Moisten the edges of the wrapper and
seal
diagonally.
Press
dough edges together.
Set aside and repeat for the rest of the wrappers.
Place on a paper towel to drain excess oil and
cool.
Wash
lettuce;remove excess water in salad spinner.
Add lettuce to a salad bowl.
Then add red peppers, green onion, gomashio.
In a little bowl, place
shredded
daikon, sesame oil, vinegar.
Decorate with 4 avocado
slices
and 5-6 wontons.
Image Sources: