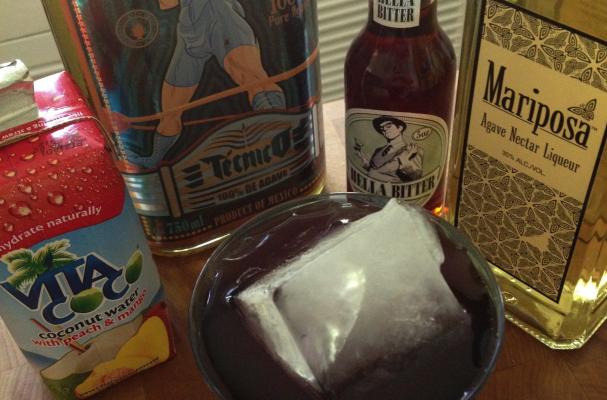 First let me give you a word of warning.
This is not a cocktail for those with fear.
You must lose your fear and then delve into the wrestling ring with the expressive Tecnico 100% Agave Tequila Anejo. (musical accompaniment- please click)
This is the real stuff my friends. Aged patiently in oak that formerly held Bourbon Whiskey, the Tecnico Anejo is in the flavor profile like opening a honey pot and thrusting your entire hand inside, then slathering the sticky goodness all over your body. I love the flavor of the place or Terroir of this Tequila. Sure it has a funky label of a Mexican wrestler wearing his mask. (love this genre) And of course the color is lush and pleasing by the golden hue that eminates from the glass, but what I like most is the flavor of the Agave. The label clearly reads 100% Agave, Spectacular Tequila Elaborated.
This means to me, the good stuff.
Mariposa Agave Nectar Liqueur is the next ingredient in this little cocktail. I call it a little cocktail because in the end result, you have a series of shots- instead of a series of cocktails. Drink too many of these shots and you too will enter the wrestling ring.
I love the Mariposa or Butterfly Liqueur. There is a soft realism of the Agave syrup augmented against a back-bone of rose oil and gardenia oils.
Floral in the nose and perfumed in the finish with capricious notes of German caramelized honey drops- this is a most sophisticated liqueur for drinking alone in a snifter, on the rocks with a twist of lime, or in a frosty mint driven mojito or in this case as a shot.
But what kind of shot includes such high quality liquors?
Certainly not the college student, "let's get as blasted as possible" type of shot, although drinking more than four of these, then your mind- well, let's just say it will disappear!
So please be VERY CAREFUL...
The final ingredient is the Hella Bitter in Citrus. This Bitter is not your usual Bitters for this type of cocktail. Ripe, aromatic, certainly BITTER and long lasting across the tongue- the Hella Bitter brings these shots together and sets the drinker straight almost immediately.
I love Hella Bitter in my cocktails... AND my well chilled shots.
As a boy I traveled to Mexico quite a few times on vacation with my family. I remember the flavors of the Mezcal and the Tequila- marveling at the funky bottles on the shelves of Cantinas and Bodegas who served these magical elixirs usually with a squeeze of lime and a splash of Agave Syrup. The idea that a Margarita should be a frozen mess is purely an American invention. As the classic Ti Punch is to Rum, the Tecnico Anejo and the Mariposa Liqueur and made to be mixed VERY SIMPLY. I recommend the basic equation... One sour, one sweet, one frozen and one down the hatch. A shot that has all the potential and all the risks. But like life, if it doesn't involve some risk, then what fun is it?
I give this cocktail or shot if you will a DANGER LEVEL of 5 out of 5. DANGER DANGER DANGER DANGER!
Bitter Mind Eraser Shots
Ingredients:
Tecnico 100% De Agave Anejo Tequila
Ice made in a MAVEA Water Filtration Pitcher- frozen in a Williams-Sonoma King Ice Cube Tray
One Lime zested and added to the specialty ice cube tray
One small container of Coconut Water with Mango
Fresh mint from your garden... What do you mean you are not growing mint for your cocktails?
Perrier® Sparkling Natural Mineral Water to finish...
++++++++++++++
Preparation:
Zest your lime until very fine
Add to an ice cube tray. I use the King Ice Cube Tray from Williams-Sonoma
Add a 50/50 blend of water from the Mavea Pitcher to 50% Coconut Water then freeze
To a Boston Shaker add 1/4 regular ice
Add 3 shots of the Tecnico Tequila
Add 1 Shot of the Mariposa
Add 5 shakes of the Hella Bitter (Citrus)
Slap your mint (to release the oils) then add to the mixture
Shake until quite frosty on the outside of the shaker
Strain into small glasses that contain one large Williams-Sonoma King Ice Cube (infused with the Mavea and Coconut Water and Lime Zest)
Finish with a sprig of fresh mint and a splash of the Perrier® Sparkling Natural Mineral Water
Drink quickly and then have another
Makes about 6 quick shots of mind erasing power and aromatics.
http://www.cocktailwhisperer.com
Tecnico Anejo is an unstoppable force, which will win you over. Elaborated from 100% blue agave by artisanal methods and matured for an impressive 18 months period in white oak bourbon barrels, this is an ultimate sipping tequila. Rated 92 (outstanding score) by Anthony Dias Blue, the founder of San Francisco World Spirits Competition).