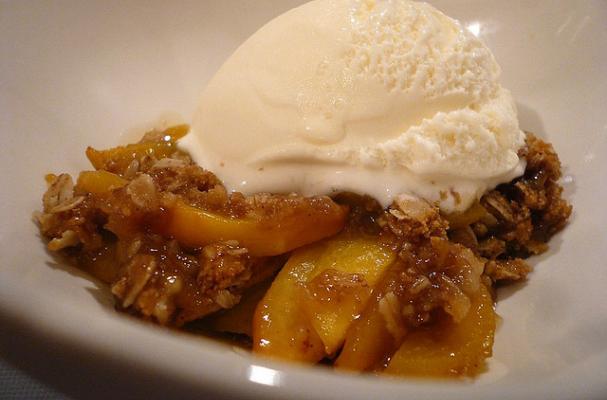 This summer, bake this irresistible peach crumble. Fresh summer peaches are mixed with cinnamon, lemon juice and sugar before being baked with a buttery topping. Vanilla ice cream served with peach crumble is a must. Stone fruits are at their peak during this time of year and this peach crumble is one way to take advantage of the bounty.
Ingredients:
Filling:
1/2 cup sugar
1 tablespoon all purpose flour
1 teaspoon cinnamon
1 teaspoon grated lemon zest
6 cups fresh peach slices (peeled) (frozen peach slices thawed)
1 tablespoon fresh lemon juice
Topping:
2 cups all-purpose flour
1/2 cup plus 2 tablespoons sugar, divided
2 tsps. baking powder
3/4 cup (1 ½ sticks) cold butter, cut into small pieces
Preparation:
Preheat oven 425 degrees and grease 9 inch baking dish.
For the filling: Mix sugar, flour cinnamon and lemon zest in a large bowl. Add the peach slices and lemon juice. Combine well. Pour into the prepared dish and bake until bubbly, about 15 minutes.
Topping: Place the flour, ½ cup sugar and baking powder in a medium bowl. Mix well. Cut in the butter with a pastry blender or 2 knives until course and crumbs form. Add ½ cup water, stirring just until the dry ingredients are moistened. Remove the dish from the oven. Drop the dough by heaping tablespoonfuls onto the peach filling. Sprinkle the remaining sugar over the top of the dough. Bake until the topping is golden brown, about 20 minutes.
Serve warm or at room temperature.
Image Sources:
Categories: