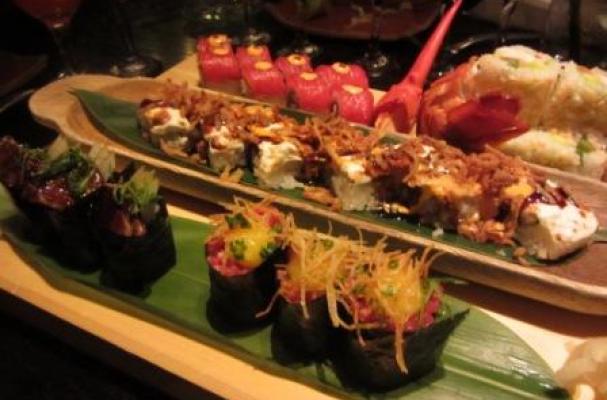 Las Vegas is one of the best dining cities in the United States with four miles dotted with restaurants from top chefs. On my most recent trip to Sin City, I discovered SushiSamba, a Brazilian-Peruvian-Japanese fusion restaurant in the Palazzo Hotel. There may not be a celerity chef attached to the eatery but the restaurant stands out in its own right.
Upon walking into the restaurant, you immediately notice the contrast of colors. Sleek black furniture is st up against warmly painted walls. South American and Japanese art are intervowen together with a mixture of orange, red, and yellow. You are thrust into a dining experience that is intimate yet very much alive.
SushiSamba has three kitchens: the sushi bar, the Japanese kitchen, and the Brazilian/ Peruvian kitchen. In the Japanese kitchen, they cook their signature sea bass and miso skewers and other dishes on a robata, a Japanese charcoal grill. The restaurant imports binchotan, a white charcoal revered in Japan for its flavor and the ability to burn hot for a long period of time. Although the food at SushiSamba is identified as fusion, the restaurant tries to keep as close to traditional cooking methods as possible.
Peruvian-Japanese fusion is trendy with several restaurants popping up all over the country but have you ever heard of Brazilian thrown into the mix? SushiSamba's food was fun, exciting, and the flavors were exhilarating.
The sushi at SushiSamba is an adventure. They serve your standard sushi and sashimi but the samba rolls are where the fusion happens. Dive into Peru with the Neo Tokyo rolls made from fresh bigeye tuna, tempura flake and aji panca (Peruvian red pepper). If you are looking for something more modern, the El Topo roll is an array of familiar flavors blended in a unique way. Salmon is paired with jalapeño and shiso leaf and then topped fresh melted mozzarella and crispy onion. The sashimi tiradito are simply dynamite. Delicate slices of sashimi are paired with intensely aromatic and flavorful sauces. My favorite was the kanpachi with yuzu, sea salt, black truffle oil.
The highlight of my dining experience was the kobe beef. This is an interactive dish where diners are served a platter with slices of kobe beef and a variety of sauces, oils, and salts to create your own marinade. The server will present you with a piping hot Japanese river stone, like a gift, for you to cook your piece of meat. You might dip your slice into toasted sesame oil and then into the black truffle vinaigrette before laying into on the hot stone. While on the stone add a pinch of black volcano salt and a few sesame seeds. The meat is so tender it nearly mealts in your mouth. It is a dish that the whole table will enjoy.
SushiSamba is not just a place to eat, it's a dining experience. It has great food, excellent service, and a knowledgeable staff. Next time your in Las Vegas, make sure to stop by, if for nothing else a refreshing cocktail and a quick bite.
Edamame, Tempura Green Beans with Black Truffle Aioli, and Roasted Shishito Peppers
Berkshire Pork Gyoza with Kabocha Pumpkin Purée and Su-Shoyu Dipping Sauce
From Right Corner Counterclockwise: Samba Strip Roll : Maine Lobster, Mango, Tomato, Chive, Crispy Rice, Soy Paper, Peanut Curry, Neo Tokyo: Bigeye Tuna, Tempura Flake, Aji Panca, El Topo: Salmon, Jalapeño, Shiso Leaf, Fresh Melted Mozzarella, Crispy Onion, Gunkan Rolls (Battleship): Foie Gras with Asian Pear and Kobe Beef with Quail Egg.
From Right Corner Counterclockwise: Tuna with Granny Smith Apple, Serrano, and Lime, Yellowtail with Jalapeño and Lemongrass, Kanpachi with Yuzu, Sea Salt, Black Truffle Oil , Salmon with Orange and Mustard Miso.
Kobe Beef with Dipping Sauces
Cooking Kobe Beef on a Japanese River Stone.
Warm Chocolate Banana Cake: Maple Butter, Banana Chip, Vanilla Rum Ice Cream and Cassava Carrot Cake: Brown Butter Ice Cream, Cinnamon Cream, Rainbow Carrot Chip, and Orange reduction
Image Sources:
Categories: