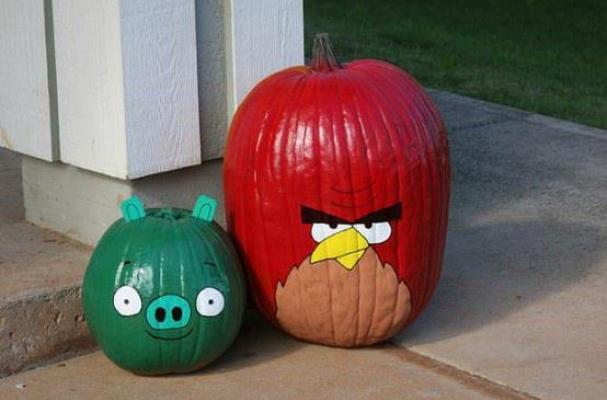 If you're still on the hunt for jack-o'-lantern ideas, use these incredible Angry Birds Halloween pumpkins as your inspiration. These photos were uploaded to the Fan Art section of the Angry Birds Facebook page, and reflect the ingenuity and creativity of Angry Birds fans. If you're like me, you can't get enough of this bird-flinging game, and these avian pumpkins are the perfect way to bring Angry Birds off your digital devices and into the real world.
1. Big Brother Pumpkin: This painted Halloween pumpkin features the visage of the giant red Big Brothr pumpkin. To replicate this pumpkin, use the largest one you can find. Don't forget the dark red spots!
2. Mini Angry Birds Pumpkins: The gang's all here! This artistic Angry Birds fan used miniature pumpkins for the white, yellow, blue and black birds, and picked bigger pumpkins to create the Big Brother bird and the King Pig.
3. Carved Angry Birds Pumpkin: The artist behind this carved pumpkin used the traditional marker-and-carving technique to create portraits of beloved Angry birds characters on each side of the pumpkin.
4. Realistic Painted Pumpkins: These painted Angry Birds pumpkins look astonishingly similar to their on-screen counterparts. If you're not as artistically minded, try enlarging stills or screencaps of the characters you'd like to replicate and print them out to use as stencils.
5. Carved Halloween Angry Birds: This gathering of Angry Birds pumpkins looks great in a larger array of carved Halloween jack-o'-lanterns.
Image Sources: