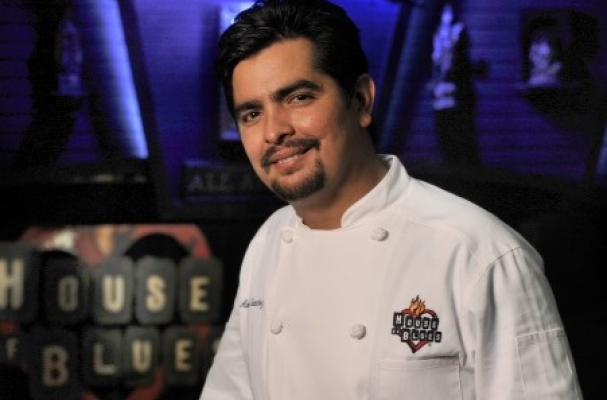 You might recognize Chef Aarón Sanchez from Food Network shows like Chef vs. City, Chopped, Iron Chef America, or The Next Iron Chef. Chef Sanchez actually made his TV debut as a co-host to the show Melting Pot in the late 90's. He comes from a family of chefs. His mother, Zarela Martinez, is a well-known Mexican food authority that has written many articles and books on the subject as well as helped many restaurants open. Chef Sanchez began his cooking career at age 18 when he worked full time with Chef Paul Prudhomme in New Oreleans. He then proceeded to study culinary arts at Johnson & Wales University. He continued to hone his skills by working in a number of restaurants including Patria, Erizo Latino, and Rose Pistola. In 2001, Sanchez opened his own restaurant, Paladar, with Centrico soon to follow. He has recently assumed the position of celebrity chef at Crossroads House of Blues where he has added menu items like braised short rib meatball sliders and shrimp and grits. Now Chef Sanchez is a familiar face on television and a cookbook author. His second book Simple Food, Big Flavor: Unforgettable Mexican-Inspired Recipes from My Kitchen to Yours is due out this October.
When did you know you wanted to be a chef?
I knew I wanted to be a chef at a very young age. My grandmother and mother were both incredible, well-known chefs and I was always in the kitchen with them. They inspired me to want to become a chef.
What were your favorite dishes growing up?
There are so many dishes that I loved, but the one that stands out and has received a lot of recognition over the years is my mom's creamy rice. She served it at her restaurant for 20+ years and it's been featured on Food Network.
What is your cooking philosophy?
Cook with passion and have your own point of view.
What challenges have you faced and overcome in writing your new cookbook, Simple Food, Big Flavor: Unforgettable Mexican-Inspired Recipes From My Kitchen To Yours?
Fitting everything into one book was by far the toughest part. I had so many ideas, so many recipes and so many experiences I wanted to share with the readers. At the end of the day, you have to fit it all into about 200 pages and that's not easy so there was a lot of editing. It was one of the most rewarding experiences I've ever had and it brought back a lot of memories. I just hope people enjoy it and use it. This is a true cookbook and I want people to be inspired to get into the kitchen.
What are your three Latin ingredients you use all the time?
Masa, cilantro and cotija cheese.
Who do you consider to be your chef mentor and why?
I really have two mentors... My mom, Zarela Martinez, and Paul Prudhomme. My mom is the reason why I wanted to become a chef and has always been my biggest supporter and toughest critic. Chef Paul was the one who gave me the opportunity to work in a professional kitchen. He not only gave me my first big break, but he was a mentor in the truest sense. The wisdom he shared with me is something I will remember for the rest of my life.
What is your advice for new chefs?
Be prepared to work your ass off. Absorb as much as possible from the people you work for and with. Nothing will be handed to you in this business, but if you stay hungry and have the drive to succeed it can be one of the most rewarding jobs in the world.You will put a lot of smiles on people's faces.
What are three kitchen tools you can't live without?
My knives, my tortilla press and my MOZO shoes.
If you could sit down at the dinner table with anyone, past or present, who would it be and why?
The Dalai Lama. I would love to listen to him speak.
What are your plans for the future?
I have a lot going on right now between the restaurants, my TV shows, new book and, of course, my family. My plan is not to take on more projects, but just to get better at what I'm already doing. Be a better chef, a better personality and a better father and husband.
Image Sources:
Categories: