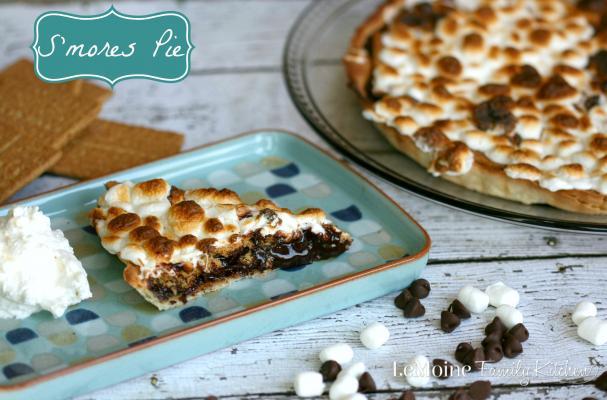 There is something sentimental about the nostalgic combination of chocolate, graham cracker, and marshmallows. I have vivid memories of spending warm nights roasting marshmallows on sticks and soaking up the fresh summer air. As we get older and our lives become more complicated, camping trips become less frequent and soon these precious moments are all we have left of simpler times. These s'mores recipes will transport you back to these carefree memories and no campfire is required.
S'mores Brownies
Recipe from Erica's Sweet Tooth
his is an easy recipe that you can whip up when you are in need of a dessert but don't have a lot of time to bake one. These brownies have all the elements of classic s'mores but with a twist. A buttery graham cracker crust is layered with a peanut butter brownie batter and topped with mini marshmallows.
Low Calorie S'mores Cup
Courtesy of Sweep Swaps
We have all fallen victim to our sweet tooth. Sugar lures us with the promise of a square of velvety chocolate, a moist slice of freshly baked cake or a rich scoop of ice cream. Time and time again, we are hypnotized by the pleasure of desserts. These s'mores cups help you take back a wee bit of that control. While you are not totaling eliminating all the goodness from the equation, you are certainly reducing it. If you find yourself yearning for something sweet, turn to this low calorie recipe for relief.
S'mores Cupcakes
Submitted to Foodista from Get off Your Butt and Bake
Cupcakes are the perfect way to celebrate the simple s'more. Dense chocolaty buttermilk cakes sit atop graham cracker crusts, then topped with a marshmallow frosting. Toast the tops and you're in for a sweet treat!
S'mores Pie
Submitted to Foodista from LeMoine Family Kitchen
Depending on who you are, a camping may or may not be a pleasurable pastime. If you are one of those individuals who do not enjoy being outdoors than you can, at the very least savor campfire favorites like this s'mores pie. Homemade pie crust is layered with graham crackers, chocolate and mini marshmallows and baked until golden brown.
Image Sources: