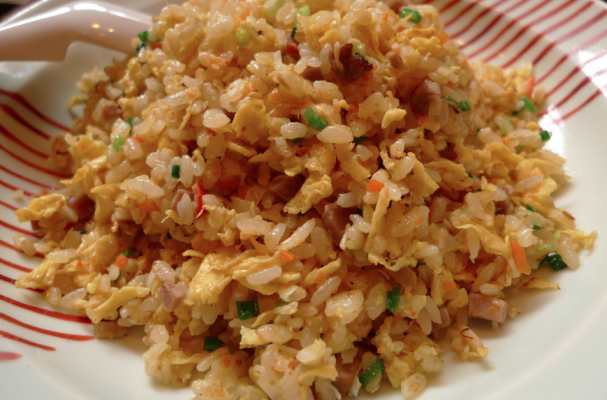 If you are in the mood for Asian, this easy cashew chicken fried rice is the perfect recipe to satisfy your craving. Inspired by restaurant-style fried rice, this dish is packed with chicken, pineapple, red pepper, peas and toasted cashews. This one pot meal is all you need instead of turning to take-out.
Cashew Chicken Fried Rice
Ingredients:
1 lb. chicken breasts, cut into cubes
3 tablespoons vegetable oil, divided
2 eggs, beaten with a dash of soy sauce
1 1/2 cups cubed fresh or canned pineapple
1 large red bell pepper, diced
1/2 cup frozen peas, defrosted
3 green onions, green and white parts, thinly sliced
2 cloves garlic, finely minced
1 tablespoon finely chopped fresh ginger
1/2 cup chopped raw, unsalted cashews
2 cups cooked and chilled rice, white or brown
1 tablespoon plus 2 teaspoons reduced-sodium tamari or soy sauce
1 to 2 teaspoons chili garlic sauce
1 small lime, juiced
1/4 cup fresh cilantro leaves, finely chopped
Directions:
Step 1: Marinate chicken in 2 teaspoons of soy sauce and freshly ground black pepper and refrigerate for at least 30 minutes.
Step 2: Heat one tablespoon of oil in a large skillet or wok over medium high heat. Add the chicken to the pan and cook until the chicken is no longer pink, about 7 to 8 minutes. Remove from pan and set aside.
Step 3: In the same pan, add a teaspoon of oil and gently scramble the eggs. Scoop the eggs into a bowl and set aside.
Step 4: Add one tablespoon of oil to the pan and add the pineapple and red pepper. Cook, stirring constantly, until the pineapple is caramelized on the edges and the red pepper has softened, about 3 to 5 minutes. Then add the green onion, peas, ginger and garlic. Cook, while stirring constantly, until fragrant, about 30 seconds or longer. Transfer the contents of the pan to your bowl of eggs.
Step 5: Add the remaining two teaspoons of oil to the pan. Pour in the cashews and toast them, stirring constantly, until the cashews smell fragrant and have turned golden brown, about 30 seconds. Add the rice to the pan and stir to combine. Cook, stirring occasionally, until the rice is hot, about 3 minutes.
Step 6: Pour the cooked vegetables and eggs back into the pan with the rice and stir to combine. Season with soy sauce, chili garlic sauce, and lime juice. Taste and adjust seasoning as necessary. Garnish with fresh cilantro.
Image Sources: