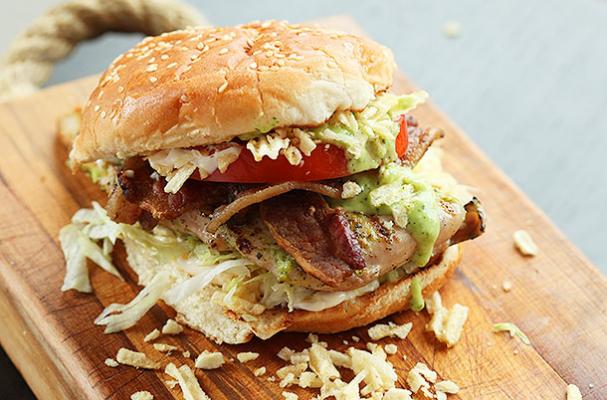 Grilled chicken breast dishes are one the simplest meals you can put together and nothing is easier than a sandwich. These sandwiches can be prepared any night of the week with ingredients you probably already have on hand. So long as you have chicken breasts, buns (or other bread like biscuits or pita), and some toppings - you are set.
Grilled Mexican Chicken Biscuit Sandwich
Courtesy of Pillsbury
Instead of sliced bread, taco spiced chicken breasts are tucked in between a grilled biscuit. These chicken sandwiches are loaded with pepper jack cheese, sliced red onion and guacamole. Feel free to add your favorite Sandwich toppings.
Green Goddess Chicken Sandwich
Recipe from Food 52
Green goddess chicken sandwiches are a dynamite summer meal. This lighter version of green goddess dressing is mainly a mixture of avocado, Greek yogurt and a variety of herbs. You can pile on the topping or keep it simple with a few leaves of spinach and a thick slice of tomato.
The Ultimate Chicken Sandwich
Recipe from Serious Eats
This Colombian inspired chicken sandwich is like nothing you've ever eaten before. The grilled chicken breasts are basted with a bright green salsa and topped with crispy bacon, shredded iceberg lettuce and tomato. Before the sandwich is put together, the buns are slathered with mayo and topped with potato chip crumbs.


Image Sources: